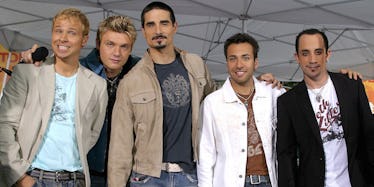 This Throwback Video Of The Backstreet Boys Will Make You Feel So Nostalgic
REUTERS/Alex Oliveira AO/JK
GUYS, today is basically a national holiday.
It's the anniversary of the day the Backstreet Boys came together to become the greatest boy band of all time.
AJ, Howie, Nick, Kevin and Brian were the ultimate '90s heartthrobs. I feel like I had a romantic relationship with each of them because of the life-size posters that hung by my bed.
It sometimes feels like yesterday I was that awkward middle schooler jamming out to "As Long As You Love Me" and making out with my pillowcase. Good times.
Well, music fans, you probably forgot the Backstreet Boys' first album came out in 1996. The youths of today probably don't even know who Nick Carter is. Just think about that for a second. Yup, my heart is breaking.
In honor of their anniversary, the Backstreet Boys posted an emotional throwback Instagram to pay tribute to their music, friendship and fans.
The caption read,
23 years ago today, in 1993, we became the Backstreet Boys and our lives changed forever. We sincerely thank you for every concert, every hug, all your love and support over the last 23 years. Here's to many, many more!! #KTBSPA #BSBis23
OMG, I am crying right now. They are babies! There are tears in my eyes. This is so beautiful.
TELL ME WHYYYYYY, I CAN'T BE THERE WHERE YOU ARE?! There's something missing in my... heart.
Sing it with me, I know you know the words.
Happy anniversary to the boys who changed my life. I can't wait to play their entire Millennium album at my wedding.