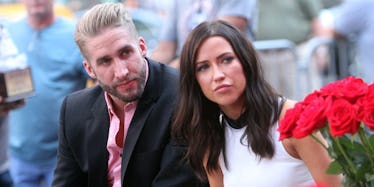 Kaitlyn Bristowe Slams 'Bachelor' Producer For Letting Nick Viall Do 'DWTS'
REX/Shutterstock
Former "Bachelorette" Kaitlyn Bristowe is done keeping quiet about the sexist policies of "The Bachelor" show runners.
On Wednesday morning, "Good Morning America" announced the new cast of "Dancing with the Stars" season 28. Among them was none other than current Bachelor Nick Viall.
Nick's hardly the first Bachelor to make that move. Jake Pavelka, Sean Lowe and Chris Soules, all alums of "The Bachelor," appeared on season 20 of "Dancing with the Stars."
So that got fans wondering: How come we never see any of our favorite Bachelorettes dancing among the stars after they pick their man?
(The only exception is Trista Sutter, who was both in the first season of "The Bachelorette" and the first season of "DWTS," which most people don't remember.)
Well, according to season 11 "Bachelorette" Kaitlyn Bristowe, there's a reason you're not seeing the ladies of Bachelor Nation land these opportunities after their shows.
In fact, Bristowe revealed she was actually approached to join "DWTS" in 2015, but "Bachelor" creator Mike Fleiss didn't let her.
A few hours after the "DWTS" cast announcement on Wednesday, Bristowe replied to a tweet from a fan asking why she never got that gig.
Mike Fleiss replied to Bristowe's tweet, saying he would support her on "DWTS," but not denying he prevented her from getting the job at the time.
Bristowe then pointed out this support was coming a little late.
Fleiss did not reply, and Bristowe ended the discussion with everyone's favorite "tea lizard" meme.
Phew. What's the matter, Mike, got nothing to say?
It definitely doesn't look great that "The Bachelor" creator is holding back the women he works with from taking the same opportunities the men get.
Bristowe elaborated on this gender inequality in the "Bachelor" franchise in a statement to Entertainment Tonight, saying,
I believe men and women should be afforded the same opportunities. That has not been the case with 'The Bachelorettes' and 'The Bachelors.' I had an offer to do 'Dancing With The Stars' and was told by ['Bachelor' creator] Mike [Fleiss] I could not. I was told by Mike that it is bad for his brand, and that he is sick of people wanting fame from his show. I am a dancer and wanted to do it, [my fiancé] Shawn [Booth] wanted me to as well. He even wrote Mike emails. I told Mike it was my passion. I was told Shawn should be my only passion. My hope in speaking out is that future 'Bachelorettes' are given the same opportunity as 'Bachelors.' Whether it be a wedding, to dance or another show. (Ben [Higgins] had the decision to do dancing or his own show.) Just to be treated the same -- to choose whatever will make them happy.
Neither Mike Fleiss nor anyone from ABC has commented on Bristowe's accusations further.
Citations: EXCLUSIVE: Kaitlyn Bristowe Explains Why She Outed 'Bachelor' Boss for Allegedly Not Letting Her Join 'DWTS' (Entertainment Tonight)