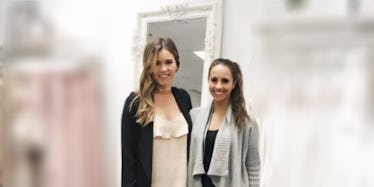 People Are Pissed At Vanessa From 'The Bachelor' For Spoiler Photo On Instagram
Instagram
"Bachelor" nation is pissed.
*WARNING: MAJOR SPOILERS AHEAD
A few weeks ago, loyal fans of "The Bachelor" were up in arms after it was revealed Rachel Lindsay would be the next "Bachelorette." Like, who needed such a huge spoiler just when Nick Viall's season was getting good?
Don't get me wrong, I'm sure most fans of the ABC franchise are pretty pumped for Rachel to be the next "Bachelorette," but that doesn't take away from the fact the announcement kind of, you know, somewhat ruined this season of "The Bachelor."
If you thought that was bad, wait until you get a look at the latest spoiler from a "Bachelor" contestant.
After Monday night's episode of "The Bachelor," we now know Raven Gates and Vanessa Grimaldi are the final two women left standing in the competition to win Nick Viall's heart.
Fine, right?
Well, based on a recent photo posted to Instagram, it appears we might know who will receive a Neil Lane engagement ring by the time all is said and done.
People are pissed right now because Vanessa Grimaldi was photographed inside of Le Chateau, a Canadian boutique, and as you're about to see, she was standing right in front of a rack of wedding dresses when the picture was snapped.
As Refinery29 points out, the photo was posted by Holly Wiancko, a creative coordinator for the store. To caption the photo, Wiancko wrote,
A good way to end the week at the office! #thebachelor
Is you life ruined yet? Is this not the worst "Bachelor" spoiler ever?
According to reports, Vanessa Grimaldi did NOT try on any wedding dresses at Le Chateau; she was at the store to talk about a potential partnership with the boutique.
You buying this? Yeah, neither are folks on Instagram.
In response to Vanessa's now infamous wedding dress photo, IG user melea.moss wrote,
You just ruined the whole show.
User ttwebber wrote,
Literally everyone is pissed about the spoil alert haha.
There's plenty more where that came from, but I don't think I'm spoiling anything by telling you most of the comments are pretty similar.
This whole season is ruined. This is completely irrational, but I'm going to blame it all on Chris Harrison.
Sorry, buddy.
Citations: Vanessa's Wedding Dress Photo Has Bachelor Fans Riled Up (Refinery29)