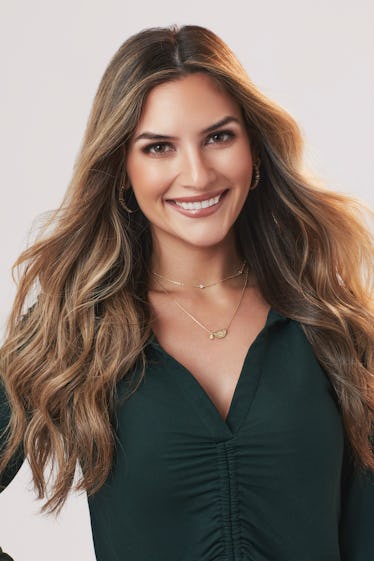 All About Katherine, The "Weird" Bachelor Contestant Zach Bonded With
So how weird is she really?
ABC/Ricky Middlesworth
It's imaginably tough to get to know someone on the biggest reality show while surrounded by cameras. Luckily for the Season 27 Bachelor Zach Shallcross and one of his contestants, Katherine Izzo, they were able to get down to the nitty-gritty of their personalities pretty quickly. They bonded during Night One over being "weird," and it seems to be working out for them.
On the first night at the Bachelor Mansion, Katherine was unsure of how much to share about herself, but Zach reassured her that he wanted to know everything about her. "The last thing I want is, like, stuck-up or, like, very professional or formal," he told her.
Bonding over their weirdness worked out for Katherine since she not only received a rose, but she was also one of the seven women to kiss Zach Night 1, too. That streak continued into Week 2. Katherine also got some precious private time with Zach during the Jan. 30 episode's first group date, and she received the group date rose.
Here are all the details — even the weird ones — about Katherine from Zach's season of The Bachelor.
Bachelor Nation's Katherine Izzo's Real Job
Katherine works as a registered nurse at the Moffitt Cancer Center in Tampa. According to her LinkedIn, she was a member of Zeta Tau Alpha when she was a student at the University of South Florida. She graduated from there in 2019 and went on to earn her master's degree in nursing from South University in 2022.
Bachelor Nation's Katherine Izzo's Instagram
On Instagram, Katherine posts pics of her life in Tampa, along with shots from vacations to Las Vegas and New York. She also makes sure to show her love for her family and her friends. Katherine also loves an IG story highlight reel and used her highlights to showcase her grad school life.
Bachelor Nation's Katherine Izzo Facts
Katherine's celeb lookalike is Julia Roberts, at least according to her ABC bio. She also says she's a fan of the finer things and prefers to glamp rather than camp. But no matter what, the 26-year-old has a "witty sense of humor" and is looking for "a real man who will enhance her life." Sounds like Zach could be her guy.
Season 27 of The Bachelor airs Mondays at 8 p.m. ET on ABC.