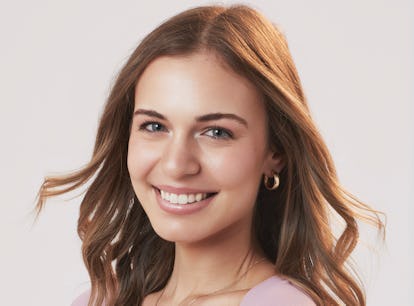 Jess From The Bachelor May Be In For A Rough Season
The promo for Zach's journey doesn't bode well for her, but only time will tell.
ABC/Ricky Middlesworth
Zach Shallcross' season of The Bachelor officially began on Jan. 23, and the premiere introduced audiences to the 30 women vying for his heart. There were a lot of women to meet during the premiere episode, but it was easy for one to stand out, since she was the very first to arrive at the Bachelor Mansion. Jess Girod was the first Season 27 contestant to make her limo entrance, and although she was visibly nervous to meet Zach, he called their meeting a "great start" to the night. But even though her journey started off strong, the promo for The Bachelor Season 27 shows there might be some rough times ahead for Jess.
At the end of The Bachelor's Season 27 premiere, fans got a sneak peek of the rest of the season in a promo. It looks like there's plenty of romance ahead for Zach, but, of course, there's a ton of drama, too. Jess seems to be at the center of a lot of that drama. She's shown crying to Zach and telling him, "I'm upset that I haven't gotten a 1-on-1."
While Jess apparently fights for more time with Zach, it seems like her relationships with the other women will need some attention to. In the promo, one woman says, "I don't trust Jess," before it cuts to Mercedes Northup saying, "She's manipulative."
Fans will have to tune in to the rest of Season 27 to see how Jess' relationships evolve, but in the meantime, here's what to know about her.
Bachelor Nation's Jess Girod's Real Job
Jess is all about fashion and works as an e-commerce coordinator for Neiman Marcus Group, according to her LinkedIn. Before that, she studied retail entrepreneurship and merchandising at Florida State University. She was super involved in the Zeta Tau Alpha sorority while she was in school, and she graduated in 2021.
Bachelor Nation's Jess Girod's Instagram
With almost 20,000 followers, Jess is very popular on Instagram. She posts pics with her friends and sorority sisters, as well as photos from her home state of Florida.
Bachelor Nation's Jess Girod Facts
At 23 years old, Jess is one of the youngest cast members, but she's "ready for her fairytale romance worthy of a Taylor Swift love song," according to her ABC bio. She also says her ideal date is playing with puppies, which sounds like a date Bachelor Nation would love to watch, if any Bachelor producers are reading this.
Season 27 of The Bachelor airs Mondays at 8 p.m. ET on ABC.