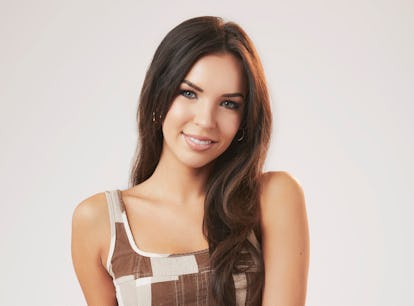 Fans Are Convinced Davia From The Bachelor Is A Celeb Doppelgänger
From Christine Quinn to another Bachelor star, she's drawing all the comparisons.
ABC/Ricky Middlesworth
The goal for any contestant during Night One of The Bachelor is to stand out and make an impression. But sometimes the best way to make an impression is to look like someone else. That's the situation Davia Bunch found herself in after the premiere episode of The Bachelor Season 27. She joined the show to meet and possibly fall in love with Zach Shallcross, but fans were a bit more focused on her multiple celebrity doppelgängers.
As soon as Davia showed up at the Bachelor Mansion in the Jan. 23 premiere of The Bachelor Season 27, fans took to Twitter to point out her similarities with Selling Sunset star Christine Quinn. They're not wrong, but the comparisons didn't end there. Fans also thought Davia looked like another big name in Bachelor Nation: Kaitlyn Bristowe. Again, the fans know what they're talking about.
Davia already has her own claim to fame, though. She had her own foray int he spotlight when she was crowned Miss South Carolina in 2018. Fellow Season 27 Bachelor contestant Cat Wong also competed in the Miss South Carolina competition that year, so Davia and Cat may have history together from before The Bachelor.
Here's everything to know about Davia as she continues to make her mark in Bachelor Nation.
Bachelor Nation's Davia Bunch's Real Job
Davia is a marketing manager living in Charleston, South Carolina. According to her LinkedIn, she graduated from the University of South Carolina in 2020. She worked at a few companies and organizations, including South Carolina Women's Leadership Network and SPEAK Strategic, before landing at The Design Group, where she works now.
Bachelor Nation's Davia Bunch's Instagram
On Instagram, Davia posts pics from her daily life in South Carolina, as well as a few model-worthy shots. Her friends are also clearly important to her and they appear frequently in her grid. Davia is also an avid reader and she has a story highlight devoted to all her favorite books.
Bachelor Nation's Davia Bunch Facts
Davia had a difficult upbringing. When she was in elementary school, mom was diagnosed with leukemia. She died when Davia was 15 years old, and her dad remarried soon after. She spoke about her experience at the First Baptist Church in Spartanburg, South Carolina, where she grew up. "Instead of confronting issues, I ran away," she said. "My dad married a new wife that year. I ran to Russia on a dance scholarship. Then I got an eating disorder."
Dance and church are both very important to Davia and they played a big role in her recovery. The 25-year-old also loves Lizzo and Taylor Swift and says she can "out-burp anyone," according to her ABC bio. Perhaps that's a claim she'll have to test out with Zach this season.
Season 27 of The Bachelor airs Mondays at 8 p.m. ET on ABC.