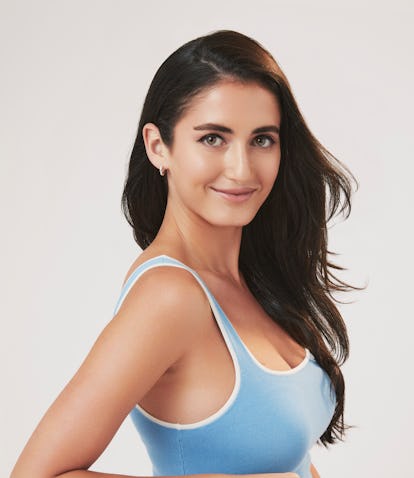 Ariel From The Bachelor Is Low-Key Hilarious On TikTok
She's not above poking fun at herself.
ABC/Ricky Middlesworth
The quest to find your lifelong partner is pretty serious stuff, so it makes sense The Bachelor often gets tense. But that doesn't mean there isn't room for a little humor, and it's all the more refreshing when a Bachelor contestant pokes a little fun at herself and the whole process. Ariel Frenkel from Zach Shallcross' Bachelor season is one of those contestants, and she's showing off her fab sense of humor on TikTok.
Zach has garnered a bit of a reputation as "the boring Bachelor," but Ariel is anything but a boring contestant. She's chronicling her Bachelor journey on her TikTok with posts about Zach dating multiple women at once and about drinking at the Bachelor mansion. She's also super candid about the rest of her life; in one TikTok she questions if it's normal to be jealous of your friend's baby, which is very oddly relatable.
But Ariel isn't only a great addition to your TikTok rotation; She's also a contender for Zach's heart and even got a kiss from him in Week 2. Here's everything to know about her as she continues on her Bachelor journey.
Bachelor Nation's Ariel Frenkel's Real Job
After graduating from The George Washington University in 2016, Ariel worked as an assistant at the William Morris Endeavor agency in Hollywood, according to her LinkedIn. She then pivoted to project management and marketing. Now she works as a freelance marketing consultant in her hometown of New York City.
Bachelor Nation's Ariel Frenkel's Instagram
Ariel is a world traveler and her Instagram definitely proves it. Her grid includes photos from Paris, Milan, Lisbon, London, and Mallaroca, just to name a few locales. She's also close with her "big, loving Ukrainian family" and her friends, and she brings her signature sense of humor from TikTok to her IG captions, too.
Bachelor Nation's Ariel Frenkel Facts
According to her ABC bio, Ariel is a "thrill-seeker" who loves SZA and reading Architectural Digest. The 28-year-old says she's "looking to find love like her parents have," which could possibly be with Zach.
Season 27 of The Bachelor airs Mondays at 8 p.m. ET on ABC.