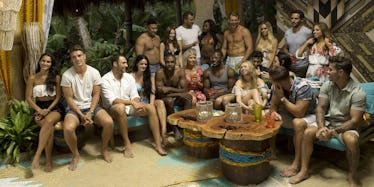 Here Are The Girls Who Said Goodbye To 'Bachelor In Paradise' This Week
ABC/Paul Hebert
As we wrap up Week 3 of Bachelor in Paradise, we finally, finally have some eliminations. After the incident with Corinne and DeMario and the dramatic production shut down, things started to cool down and everyone started enjoying themselves... all while stirring up lots of drama. Now that things are more or less back normal, we finally get to send some people home. Last Tuesday night's episode gave the power to the men, so who went home on Bachelor in Paradise this week?
Because of the uneven ratio of women to men, several women went home and helped even things out. The drama has been building — Lacey and Jasmine were both convinced they had no chance at a rose, and were freaking out. But luckily for both of them, Lacey got a rose from Daniel and Jasmine got hers from Matt, who came back for a quick second to save Jasmine's skin. (Apparently that's allowed?) Jasmine wasn't happy about it, and accepted his rose with an unenthusiastic "Sure."
Then Derek gave his rose to Taylor, Robby gave his to Amanda, Diggy gave his to Dominque, Adam gave his Raven, Dean gave his to Kristina (not D-Lo), and Ben Z gave his rose to Danielle/D-Lo.
So the only girls to go home were:
Alexis Waters
Alexis also hails from Nick Viall's season of The Bachelor, better known as "Dolphin Girl." Unfortunately, Dolphin Girl's Bachelor luck seems to be continuing. Alexis was sent home without a rose, sadly.
Sarah Vendal
Yet another Nick Viall reject from The Bachelor, Sarah V also failed to procure a rose in Tuesday's episodes. She was hoping to get it from Adam, but he ultimately chose Raven. Goodbye Sarah, we hardly knew ye!
Danielle M.
Last week, Danielle M. was not voted off but decided to voluntarily go home, as she had an opportunity to do some charity work in Kenya, with the Lwala Community Alliance. She's been posting Instagrams of herself helping families in Kenya by building health and education programs.
Wow, well, good for you, Dan! That's certainly a cause a little more worthy than getting drunk and having sex in Mexico. Unfortunately, fans who were dreaming of Danielle M hooking up with her old friend Wells the bartender have just had their dreams crushed. But hey, maybe those two will actually fall in love in a healthy, non-televised way.
Maybe now that people are actually getting eliminating, this can stop being the most boring Bachelor in Paradise episode of all time?