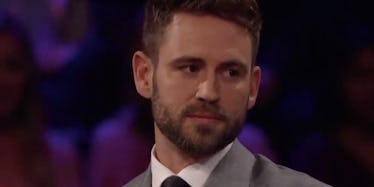 New Finale Promo Promises A 'Bachelor First' And We're Worried For Nick Viall
ABC
If you're a "Bachelor" fan, you probably already made plans for the dramatic season finale.
It's live, it's three hours long and it calls for multiple bottles of wine to help mellow the anticipation of Nick Viall proposing to the love of his life on TV.
Start popping — this one's going to be a doozy.
After watching the most recent promo for the big finale event, we're a little worried about Nick.
During the teaser for the upcoming episode, both finalists — Raven Gates and Vanessa Grimaldi — express their doubts about ending up with the bachelor, and it's getting us nervous.
In the background of the promo, Raven says "I do have doubts," while Vanessa explains, "There's just something that's not sitting right."
Um, what's that supposed to mean, girls?
I can't even imagine the waterworks that would take place on Nick's behalf if the woman he chooses to propose to denies him, but it looks like that scenario might not be as far fetched as we thought.
In the promo, Nick even admits how heartbreaking it'd be if the chosen woman says "no."
While we'd like to imagine a devastating scenario like this wouldn't happen in Nick's wildest dreams (or nightmares), a small detail in the teaser is making us even more nervous about the episode.
Apparently, there's going to be a "Bachelor First" after the final rose is given, and we aren't sure what to expect.
All we know so far is the segment will air live after the finale, and that it'll feature something that's never happened on the series before.
Ugh, the possibilities are endless.
WHAT HAPPENS? Is this good? Bad? Happy? Sad? Please, tell us.
Again, the promo isn't exactly making us confident Nick's choice will reciprocate his love, and we're a little nervous about what's going to go down on "Bachelor First."
Will he get rejected? Who knows?
If he does, I'm sure Corinne will be happy.
Citations: New Bachelor Finale Promo Promises "A Bachelor First" on After the Final Rose (E!)