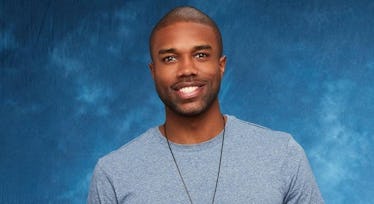 Sorry, Bachelor Nation: DeMario Won't Be On 'Dancing With The Stars'
ABC
DeMario Jackson is dancing his way out of yet another ABC reality series. The controversial Bachelorette contestant sparked rumors he would appear on the upcoming season of Dancing With the Stars last week, but now those rumors are being shut down by sources close to the reality show. Apparently, DeMario will not be on Dancing With the Stars this season, nor will anyone from the Bachelor family.
A source close to Dancing With the Stars told Variety the DeMario Jackson rumor is just that: a rumor. Speculation started last week when DeMario told TMZ he would be interested in joining the cast of the show. As arguably the most headline-grabbing name to come out of this season of The Bachelorette, it seemed like a solid bet, but Variety's source pointed out DWTS usually only asks Bachelor Nation leads to join the show, not contestants.
No, there's no truth to that. I have no idea where that rumor got started... [DWTS has] certainly taken meetings with people from the franchise — it's usually always leads, and that doesn't mean it has to be, but there's no truth to the DeMario thing.
Elite Daily has reached out to DeMario Jackson's team for comment but has not heard back at the time of publication.
Of course, this doesn't mean we won't be seeing DeMario on our TV screens very soon. Though he departed from the new season of Bachelor in Paradise following his involvement in a murky incident with Corinne Olympios, he will still appear in the premiere episode next week and return for the end-of-season reunion show.
The Dancing With the Stars source also shut down rumors Corinne Olympios was being cast on the show, saying the series will likely be taking a break from Bachelor Nation this season after Nick Viall's casting last year.
And the Bachelor franchise isn't the only buzzy sector this season of Dancing With the Stars isn't interested in touching: after plans to cast former White House press secretary Sean Spicer fell through recently, the show is reportedly not seeking any more Trump castoffs, such as the recently fired Anthony Scaramucci.
So now we're pretty much at a total loss as to who will be on this season of Dancing With the Stars. I guess we'll just have to wait for the cast announcement.