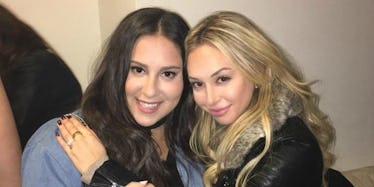 'Bachelor' Contestant Corinne's Mom Says Her Engagement Ring Was 'A Spoof'
Instagram
"Bachelor" contestant Corinne Olympios made major headlines Monday when she took to Instagram to post a photo of herself wearing what appeared to be an engagement ring.
Naturally, Bachelor Nation started to speculate Corinne won "The Bachelor" and is now engaged to Nick Viall.
Well, those wedding bells may not be ringing just yet.
The Instagram photo at the top was actually uploaded by comedian Claudia Oshry (the Girl With No Job), who is apparently a good friend of Corinne's.
And it appears the ring Corinne was photographed wearing actually belongs to the recently engaged Oshry.
Speaking on the "Bachelor" engagement ring debacle, Oshry reportedly said,
We were hanging out Friday night and, since I just got engaged, I was letting everyone try my ring on. We were having so much fun, taking photos, drinking... we didn't even realize until every website was calling me and writing it up!
I mean, you can't blame everyone for jumping to conclusions, right?
EMOTIONS ARE RUNNING HIGH RIGHT NOW, OK?
To caption the above photo, the Girl With No Job wrote,
One of us is a Bachelorette contestant and the other has a nanny.
Shout out to Raquel real quick!
Apparently, Corinne Olympios' mom, Peri, backed up Oshry's claim Corinne and Nick are NOT engaged.
Mama Olympios said,
It was the comedian's ring. They did it as a spoof! Actually, it's the comedian who's engaged. It's Claudia's ring. They wanted to do a little skit thing. A spoof.
A "spoof"? I feel so cheated! Something tells me Corinne Olympios knew exactly what she was doing when she posed for that picture, but that's just me.
This is actually the second time in less than a week Corinne's mom has opened up about something to do with "The Bachelor" being "fake."
Peri Olympios told TMZ the whipped cream scene with her daughter and Nick Viall was "fake" and "all for TV."
She said,
Yes, she took it to the limits. [But] most of it is fake. Even when she decided to, you know, lose the top, she had cover ups on. When she was in the trench coat, she had a bathing suit on.
Corinne's mom added,
It was all for TV. Reality TV and TV is very fake, and you have no idea what they have cut out. If you pick a particular episode, I could give you the reality of it, just like with the whole trench coat and whipped cream thing. Do you really think a can of Reddi Wip was sitting there in the corner? By the pool? In the heat? Really?
I don't care what Peri Olympios says, I'm still going to get lost in the magic every Monday night.
Citations: EXCLUSIVE: 'Bachelor' Villain Corrine's Friend Claudia Oshry Explains Engagement Ring Pic (Entertainment Tonight)