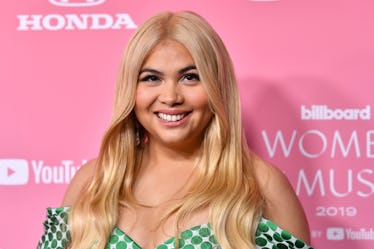 20 Asian American Musicians To Add To Your Playlist Now
These artists represent a multitude of musical genres.
Emma McIntyre/Getty Images Entertainment/Getty Images
Over the past several years, the K-pop industry in the U.S. has grown exponentially. The fan enthusiasm behind bands like BTS has drawn parallels to The Beatles, and so many K-pop groups have received the same passionate reception. The attention is well-deserved, but Asian artists represent a multitude of musical genres (even just within the K-pop industry) — a fact that should not be overlooked. Whether you're a fan of indie rock, R&B, hip-hop, or dance music, you won't want to sleep on these Asian American musicians.
Asian artists have recently received some long-deserved recognition in the entertainment industry, primarily in film. In 2020, Bong Joon-ho's Parasite won big at the Oscars. The following year, Youn Yuh-Jung won the award for Best Supporting Actress for her work in Minari, which also scored The Walking Dead alum Steven Yeun a nomination for Best Actor. However, there's still plenty of work to be done within the music landscape to ensure equal representation is achieved.
BTS, most notably, has seen unprecedented success in the U.S. Still, despite being invited to attend the last three Grammys, they've yet to take home an award, highlighting the discrepancy between their immense success and the Recording Academy's willingness to acknowledge it. Additionally, Asian artists have a harder time landing record deals. As American Idol alumni Paul Kim explained to The New York Times, he was blatantly told by industry execs he would have been signed to a label faster had he not been Asian.
By streaming these artists, you're not only supporting them and their art, but you're subsequently showing industry insiders just how valuable they are. Consider this list sonic proof Asian artists are making exceptional, diverse music that can't be boxed into one genre or sound. Each of these artists prides themselves on breaking boundaries and creating their own rules. You may have heard of a few, but many have been flying under the radar for far too long. Your ears will thank you soon enough.