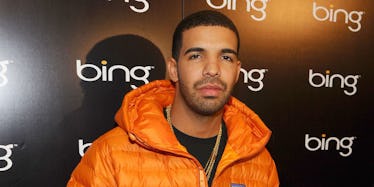 Ashton Kutcher Hilariously Explains What Happened When Drake Was On 'Punk'd'
Getty Images
Drake has never been known for his toughness. He has two really big things going against him: 1) He's from a wealthy Toronto suburb. 2) He was on a Canadian soap opera as a teenager. Not exactly Tupac.
So, it makes sense some of his less-than-cool behavior during a very scary "earthquake" prank on one of the last episodes of Ashton Kutcher's "Punk'd" was cut out.
Remember "Punk'd"? That show where Ashton Kutcher modeled his trucker hat collection while also doing some pranks? Yeah, Drake was on it.
Ashton Kutcher went on "The Late Late Show with James Corden" and told the whole sad story.
Now, I don't want to give it away, but apparently when Drake thinks there is an earthquake happening, he acts exactly like me -- meaning he was not very brave. I have jumped on tables to avoid cockroaches. Drake and I get each other.