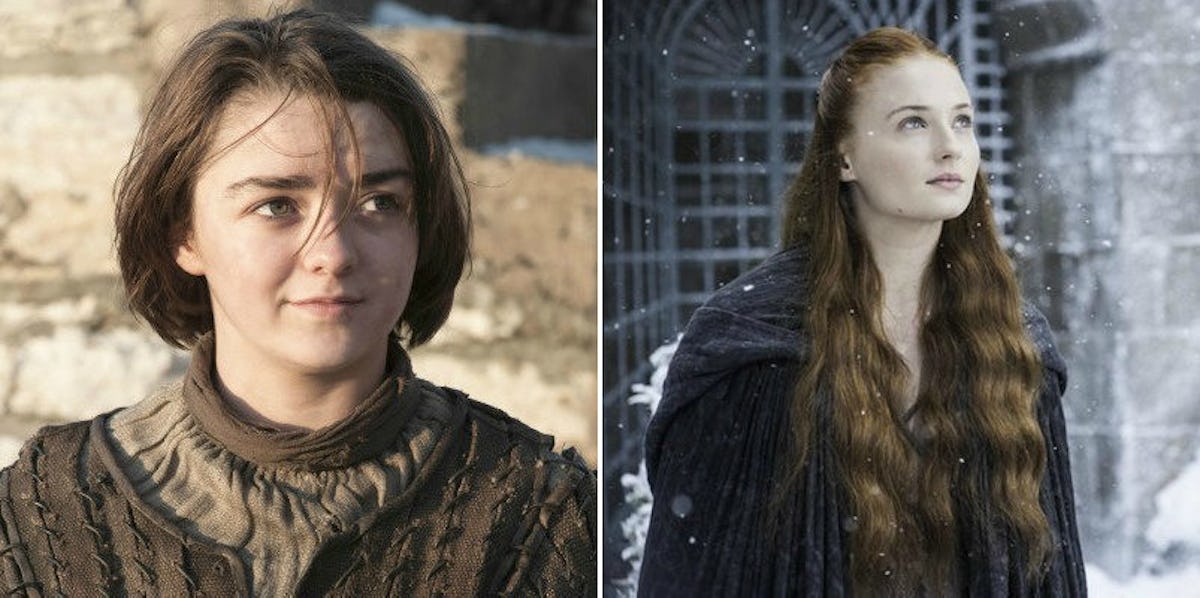 Arya And Sansa Stark Just Dropped Some Major 'Game Of Thrones' Spoilers
HBO
Before season six of the HBO hit "Game of Thrones" began in April, the cast members did their utmost to reveal as little as possible in every interview they conducted.
Kit Harington, who plays Jon Snow on the show, gave nothing away in regard to the numerous questions over whether or not Lord Snow would come back from the dead. In fact, Harington did a great job of leading us to believe Jon Snow was, in fact, dead for good.
Now that season six is firmly underway, though, it appears the cast members of "Game of Thrones" aren't quite as tight-lipped as they were in the build-up to this season's premiere.
Recently, actors Maisie Williams (Arya Stark), Sophie Turner (Sansa Stark), Dean-Charles Chapman (King Tommen) and others participated in a game of Two Truths and a Lie, organized by Yahoo!, and while Tommen and others refused to get caught in the game's web, Arya and Sansa Stark appeared to let slip some major "Game of Thrones" season six spoilers.
Here are the two truths and the lie Arya Stark reportedly revealed.
- Arya goes to Westeros, back over the sea. - Arya is in the trailer more times than people realize because they don't realize it's her. - Arya doesn't cross any more names off her list.
Here are the two truths and the lie Sansa Stark reportedly revealed.
- Ramsay dies. - Lady Stoneheart returns. - Arya checks three people off her list.
Now, I'm no Maester, but it appears we just learned it's more than possible Ramsay Bolton finally meets his end, Arya Stark starts offing people like it's her job and she makes a return to Westeros in one form or another.
Of course, there is always the possibility all six of these statements are lies, but I'm going to choose not to believe that.
I have no beef with the Many-Faced God, but it's time for Arya to finish her training and go home. A girl can only wear rags and fight with sticks for so long.
Is Arya Stark about to stick a spear through Cersei Lannister's throat? I don't know, but I'm willing to bet the house on the fact there will be quite a few more deaths before season six concludes.
Citations: 'Game of Thrones' cast plays truth-telling game, drops some major Season 6 bombshells (Mashable)