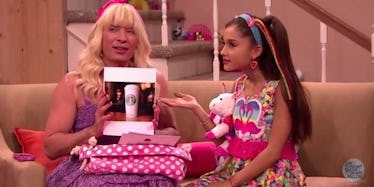 Ariana Grande And Jimmy Fallon Sing The Ultimate 'Ew!' Song (Video)
Last night, the "Ew!" sketch made a triumphant return to "The Tonight Show Starring Jimmy Fallon."
In the latest installment, Jimmy Fallon's blonde, tween alter-ego, Sara, introduces us to her bestie, Alexa, played (a little too convincingly) by guest star Ariana Grande.
There's a valley girl-esque "Ew!" sing-off, some BFFelfie (best friends forever selfie) taking, one Starbucks-inspired Ariana Grande reference and a surprise appearance by one very bizarre singing stepfather.
It's not quite as outrageous as the previous "Ew!" sketches -- mostly because we're used to Grande playing an over-the-top tween (plus, she kind of is one herself) -- but Fallon never fails to crack us up.
Check it out up top.
Citations: Watch Ariana Grande and Jimmy Fallon Compete In An Ew Sing Off (Uproxx )