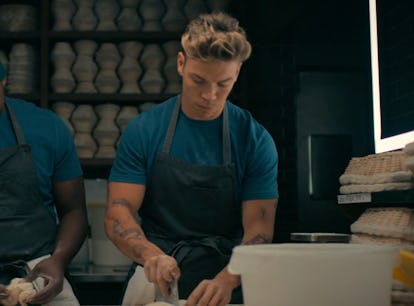 Will Poulter Revealed Whether His Tattoos In The Bear Are Real Or Not
His inked arms definitely got a lot of attention.
FX
Carmy isn't the only tatted-up chef in The Bear universe. The show's second season introduced Will Poulter as the Copenhagen-based pastry chef Luca, a determined perfectionist whose arms are covered in ink. The body art doesn't just serve as a bit of a hint at Luca's late-season twist, but it is also incredibly personal to Poulter. After the actor's arms received a lot of attention online, Poulter revealed whether those tattoos are real or not.
Luca comes off as pretty intimidating when Marcus first meets his new mentor, but after a while, he lets down his walls and reveals why he is so focused on being the best. Turns out, he had been complacent for years thanks to his natural culinary skills, until he was in a kitchen with another chef who was just consistently better than him. It was that interaction that motivated Luca to strive for perfection, even if it's an impossible feat. It's not until much later that Marcus realizes that other chef was Carmy.
On a larger scale, that's the purpose of Luca's tattoos — he's clearly emulating the chef who inspired him to be excellent. He may not have quite as many tattoos as Carmy does, but he's getting there. And in the same way that social media thirsted for Jeremy Allen White when Season 1 dropped, Poulter's arm tats also sent viewers into a frenzy.
Each tat is very personal to Poulter's personal life, he revealed in a June 29 Variety interview. The "A" on his hand is a nod to his favorite football team Arsenal F.C., the nurse's face on his left forearm is a tribute to the many women in his life who became nurses, the fish and chips drawing is for the meal he often shared with his father as a kid, and the Tabasco bottle on his right forearm is a matching piece that his brother also has to show their love for the hot sauce.
Although these tats do have a personal meaning for Poulter, they were only temporarily drawn on him for The Bear. In reality, Poulter is tattoo-free, which he confirmed when getting a temporary tattoo for a men's mental health initiative in November 2022.
But thanks to The Bear, Pouler admitted he's now ready to get some real ink on his body. He told Variety he's considering making the rowboat with a spatula tattoo that Luca had on his left wrist into permanent body art.