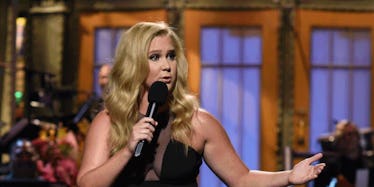 Amy Schumer Ends Her Beef With The Kardashians With Just One Tweet
NBC
The brilliant Amy Schumer was the host of "Saturday Night Live" this past weekend. For her opening monologue, she gave a short stand-up set that definitely got the audience laughing.
Schumer discussed dating Bradley Cooper, having the same body as her 18-month-old niece and she even made fun of the Kardashians.
She said,
Is that a great message for little girls? A whole family who takes the face they've been born with as a light suggestion. We used to have Khloé. Khloé was ours.
She continued,
Khloé lost half her body weight. She lost a Kendall, and we have nothing. I want good role models.
Well, Khloé wasn't too thrilled with what Amy said about her weight.
In response, Khloé tweeted,
Real subtle, Khloé.
Schumer just responded to all of the beef going down with just one single tweet.
It looks like Schumer's trying to put an end to the drama. I mean, she included an adorable picture of her niece. How could you get mad at that face? It's too precious.
Hopefully, this does actually end the feud because I'm not so sure I'd want to witness any more of this bad blood.