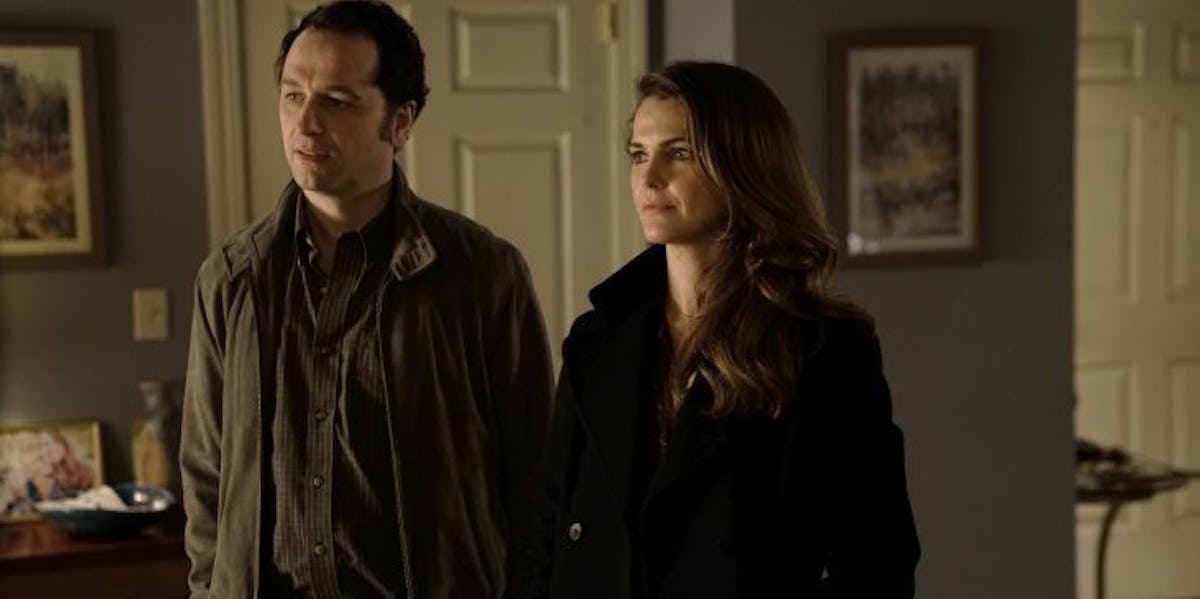 These Two 'Americans' Actors Are A Couple And These Pics Prove They're Everything
FX
When we talk about actors dating each other who work together, most of the time it's in the context of teen-oriented shows. The casts are younger, they're more likely to not be in previous relationships, and find themselves attracted by their own on screen chemistry to each other off screen. (They're also less inhibited about dating co-stars.) But even in the older-skewing "prestige" TV shows, it can happen between established stars, like Keri Russell and Matthew Rhys of the FX show The Americans.
The Americans started out as a period piece show, one of the first major drama productions to set itself in the 1980s, focusing on the early years of Reagan's America, at the high of the Cold War. The conceit: that Philip and Elizabeth Jenkins, who seem by all outside who view them to be the perfectly preppy all-American couple are really a pair of spies from the USSR who are trying to take down this terrible capitalist society in the name of the fatherland.
But as the seasons wore on, it became less of a period piece, and more of a character study, and Russell and Rhys character's struggled with how damn comfortable and easy it was to be American. (It didn't help that their son and daughter knew nothing of their parent's real identities, and were very happy in this world too.)
Then, just as it seemed the show might begin to fade, a shot in the arm of Trump's election last fall, with all the rumored Russian intrigue, suddenly made the show's fifth season one of the hottest on TV, and garnering four Emmy nominations, including Lead Actor and Actress for Rhys and Russell.
Meanwhile, the two leads came out as a couple to People Magazine back in 2014, ahead of the second season premiere, and have been doing just fine balancing their work and love life ever since. In 2016, ahead of Season 4, it was revealed they were expecting their first child.
Their son, Sam, was born in May of that year. Russell already has two other children, River and Willa, from her first marriage, which ended around the time she began working on the show. Sam is Rhys' first crack at fatherhood.
According to Russell, having time to themselves away from work and each other is key. As for Rhys, he credits Russell's nature for why things work.
She has the patience of a saint, so that helps. That is basically it....And alcohol. The great leveler, the great equalizer. Everything is so much better after a good, solid half bottle of red wine!
With the Emmy Awards coming up and the couple with his and her nominations, we expect the two of them to be in full adorable force on the red carpet as well as at the after parties. This is only the second nomination for each of them, with their first nominations being for Season 4 last year. (They both lost, her to Tatiana Maslany and him to Rami Malek.)
This year they're once again up against stiff competition. He's competing against both Milo Ventimiglia and Sterling K. Brown of This Is Us, among others as well as the great Anthony Hopkins from Westworld. She is up against Evan Rachel Wood from Westworld, Claire Foy from The Crown, and Elisabeth Moss for The Handmaid's Tale, just to name a few.
As Russell's Instagram shows, they're a heck of a relatable couple, which is no small feat in the world of Hollywood, especially for Russell, who has been a TV star since Felicity in her teenage years. So even if the two of them go home empty handed a second time, they'll still have each other as an award.