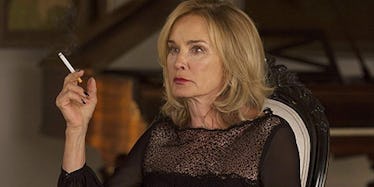 Is There An 'American Horror Story' Season 8? Here's What We Know
FX/YouTube
Alright, so I know American Horror Story Season 7 hasn't even begun yet, but I'm a millennial and instant gratification is my kink, so I'm already curious about what (if anything) Ryan Murphy has in store for future seasons of his sinister horror series. Obviously I have plenty of questions about where the show could take us in future installments; first and foremost, though, the biggest question I have is: Is there an American Horror Story Season 8 planned?
Of course, this is Ryan Murphy and American Horror Story we're dealing with, so everything is very tight-lipped and nothing is ever certain until it's on television right before our half-shut eyes. That being said, though, FX has ordered at least two more seasons of the show after Season 7, which means, yes, the next few years will be filled with the freaky, gruesome episodes to haunt us all.
Naturally, we have no idea what the show's future themes could be, but Murphy has said in the past that AHS's previous chapters are all intricately interwoven. So far, we have only seen small instances of that webbing, but, in an interview with Vanity Fair, Murphy assured us we will see it "see it explode in seasons seven and eight."
We've already seen clips of how Season 4 will resurface in the upcoming season (i.e. Twisty the Clown nabs plenty of screen time), and Murphy has said that he and co-creator Brad Falchuk plan to revisit Season 1 (Murder House) and Season 3 (Coven) together in an upcoming season; he told Entertainment Weekly,
We are going to do a season that's a crossover between Murder House and Coven together, which is very bizarre. There will be characters from Murder House and characters from Coven together.
If you're not already excited for that, Murphy has also said in the past that AHS could be around for many more years to come. Indeed, he told Vanity Fair that he and FX bigwig, John Landgraf, both agree AHS "is a show that could be like The Twilight Zone and run for multiple, multiple seasons and have its own inner mythology. So that's how [they're] approaching it."
I gotta say, I'm already itching for as much info. as possible, but I guess all we can do for the time being is sit back, relax, and enjoy AHS: Cult while we repeatedly check Reddit for fan theories about potential themes for upcoming seasons and hope Jessica Lange comes back.