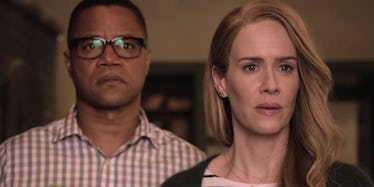 'AHS' Is Dedicating A Whole Season To A 'Murder House' And 'Coven' Crossover
FX
If the connection between "Gilmore Girls" and "Pretty Little Liars" didn't already leave you curious, just wait until you hear this "American Horror Story" news.
 You thought "AHS: Roanoke" was keeping you up at night? Ha! The anticipation of what's to come will certainly be cause for a sleepless night.
Don't say we didn't warn you, dear readers...
According to Cosmo, the show's creator Ryan Murphy revealed some exciting -- and spooky -- plans during EW's PopFest on October 30, saying,
It's not going to be next season, but we are going to do a season that's a crossover between 'Murder House' and 'Coven' together, which is very bizarre.
Whoever broached the topic of Murphy's recent comments suggesting he might revisit "AHS: Coven" was certainly onto something. Fellow panel members were definitely grateful for such a curious peer.
We can't say we blame them. And if these fans weren't already losing their cool over the "AHS" mashup, Murphy went ahead and took things a step further by saying,
I've [already] started going to actors from both of the seasons, quietly, saying, 'I'm thinking in this window, if you could fit us in.' So yeah, it's fun. It's weird.
Taunting us, huh? Well, well, well ...
If that's the case, which cast members can we expect to see? Connie Britton? Emma Roberts?
GASP! JESSICA LANGE?!
Will our dreams be answered? Will she be coming back after all?
Though there's no denying that there is a dark side to "AHS," perhaps the sickest, most twisted thing about the show was Lange's supposed farewell after the fourth season.
It was tough to handle. Fans never quite recovered from this sad news. But in light of this recent reveal, can we expect a return?
After all, who knows more about life than Jessica Lange? She's so relatable. Oh please, come back, JL! You just absolutely have to.
Here's the part where we're going to pretend to be patient and act like we're not dying to know how this is going to turn out.
Citations: Get Ready for an American Horror Story Crossover Between Coven and Murder House (Cosmopolitan)