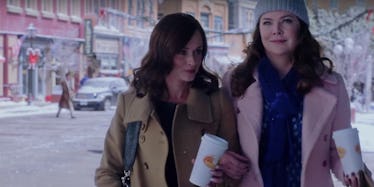 The 'Gilmore Girls' Revival Is Insanely Connected To 'Pretty Little Liars'
Netflix
If you're both a "Gilmore Girls" fan and a "Pretty Little Liars" fan, be prepared to have the illusion of Hollywood magic shattered.
It turns out, the creators of "Gilmore Girls" were not actually planning for the upcoming Netflix revival back in 2007.
As a result, the original Stars Hollow set was not kept pristine, but instead repurposed into another small town — Rosewood, Pennsylvania.
Yep, it's true: The magical Stars Hollow was taken over by Spencer, Aria, Emily, Hanna and the rest of the "Pretty Little Liars" crew.
But don't worry! In a recent interview with Entertainment Weekly at PopFest, producer Dan Palladino said they did everything they could to get the set back to Stars Hollow. He explained,
I think the first weird part was when they started to rebuild Stars Hollow on the backlot in Burbank. It's basically a shell now, it's the 'Pretty Little Liars' backlot... so we had to transform it. There was no Luke's diner, no nothing, so to see it slowly turning back into Stars Hollow was cool.
"Gilmore Girls" creator Amy Sherman-Palladino interjected,
Pretty Little fucking Liars.
So watch out for some similarities between the streets Lorelai and Rory will be walking this November vs. the hangouts of Spencer and company — like The Brew, for example.
Unfortunately, that means not everything  in "Gilmore Girls: A Year in the Life" will be exactly the same as it was.
Hey, if you don't obsessively complain about the differences between the old "Gilmore Girls" and the revival, then how will your mom know you're a true fan?
In the interview, Amy admitted the new "Gilmore" set will be slightly different than fans remember.
In particular, Emily Gilmore's mansion will actually be a mansion this time around.
Amy said,
The Gilmore house is actually bigger in the new ones. We always had this issue with the Gilmore house, where we didn't have a lot of money that first season. So it was tiny, and it kind of looked like Ed [Herrmann] was in a dollhouse. Ed was a very tall man, he would walk through doors and almost hit his head.
So yes, "Gilmore Girls: A Year in the Life" flexed their new budget and sprung for the the bigger set.
Though, as Amy pointed out, it was bittersweet to get the upgrade after Edward Herrmann's (aka Richard Gilmore) death.
She said,
Now it was finally big enough for Ed, and he wasn't there.
Still, you know Richard would have wanted Emily to have that bigger house, even if he wasn't there.
Citations: There Will Be One Notable Change To Gilmore Girls On Netflix (Refinery29)