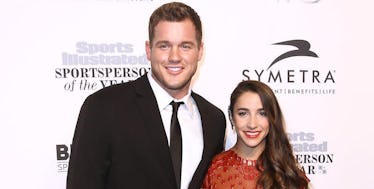 Aly Raisman Reveals She's Dating Adorable NFL Player Who Asked Her Out On Air
REX/Shutterstock
If Aly Raisman stole your heart during the 2016 Olympics in Rio, you're not alone.
It turns out this 22-year-old Olympic gymnast has been making a lot of people fall head over heels for her... namely, her new boyfriend.
That's right: Remember when Raisman made headlines by agreeing to go on a date with Colton Underwood?
You remember that 24-year-old NFL player who sent Raisman a congratulatory video message on Yahoo Sports, along with an invite to go on a double date with his teammate Andrew East and Olympic gold medalist Shawn Johnson.
@Colt3FIVE thanks for the sweet video.... looking forward to meeting you :) — Alexandra Raisman (@Aly_Raisman) August 21, 2016
Well, it seems their date went pretty damn well. Raisman just revealed she and Underwood are now officially a couple.
On Monday night, Raisman and Underwood made their first public appearance as a couple, walking the carpet together at the Sports Illustrated Sportsperson of the Year Ceremony 2016, held at the Barclays Center in Brooklyn, New York.
@Aly_Raisman @Colt3FIVE @SInow #SISportsperson pic.twitter.com/5HmqMgPbeZ — Barclays Center (@barclayscenter) December 13, 2016
Although Raisman and Underwood have only unveiled their budding relationship recently, it turns out the two have actually been dating on the DL for some time now.
Raisman told PEOPLE they've been together since the VMAs in August, after Underwood sent her that adorable date request on social media.
However, Raisman and Underwood decided they wanted to keep their relationship status quiet for a while.
According to Raisman,
We happened to both be in Denver at the same time. I was there for less than 12 hours, he was flying in for just a few days. It just ended up working perfectly.
A source also told PEOPLE, "The couple looked 'really happy together' [at the ceremony]. He had his arm around her throughout the dinner and they laughed a lot."
If mustering up the courage to ask her out on social media isn't adorable enough, Raisman also revealed her new boo drove 90 minutes back and forth to meet her for their second and third dates.
Yeah... talk about serious boyfriend material.
Things seem to be getting pretty serious between these two. Raisman has also met Underwood's parents and revealed she will be spending the holidays with her new boyfriend and his family.
Last but not least, Raisman also said, "I'm just looking forward to 2017. I think it's going to be an exciting year for everyone."
Based on how 2016 has played out for this gorgeous Olympian, we couldn't agree more.
Citations: Aly Raisman Reveals She's Been Secretly Dating Colton Underwood Since the VMAs (PEOPLE)