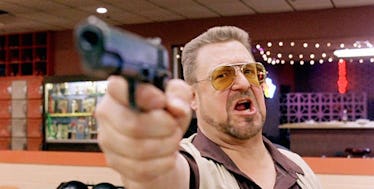 These Hollywood A-Listers Have Been So Rude To Legendary Actor John Goodman
Gramercy Pictures
John Goodman is presumably exactly as his name implies: a good man.
The 63-year-old actor has starred in countless critically-acclaimed and award-winning films, including the most recent, "Trumbo." The man-turned-household-name by his regular role on "Roseanne" also stars in "10 Cloverfield Lane," "The Monuments Men," "The Gambler" and "Argo."
Although he has quite an oeuvre, Goodman is not your stereotypical A-lister with a penchant for big Hollywood parties and a collection of award-boasting friends.
The actor paid a visit to "The Howard Stern Show" recently, where he opened up to the talk show host about where he stands among his Type A, big screen co-stars.
He told Stern about the time he tried introducing himself to Kristen Wiig, saying,
She was talking to somebody else, and I was just – I think she's so great, and the social barriers broke down and I interrupted the conversation. And I would just hate for somebody to do that to me. And she goes, 'Yeah, I'll talk to you in a minute.' [makes sound of bomb dropping] It was like the Atom. I shrunk down to Atom size. I really like her, and it was embarrassing, so I'll never speak to her again.
Poor John! Can you imagine bearing witness to this sad course of events? Just try to think about who Kristen could have been talking to who is SO MUCH MORE important than THE John Goodman. I mean, this man is, like, the most understated legend of all time.
To pour salt on the already-gaping wound in our hearts, John recalled filming alongside George Clooney and Matt Damon in 2014's "The Monuments Men," saying,
I tried to hang with them, but Matt and George would always have these conversations, and they'd go out for cocktails afterwards. I don't really drink, and I don't bring a lot to that party because they're super A-level guys.
OK, this is just getting ridiculous. Who doesn't invite John Goodman out for a drink after a long day of filming? F*ck your whiskey! Hand the man his beverage of choice and pick his brain about what it's like to be John Goodman.
To save our souls from turning to dust, the actor ended his conversation with Stern about his reservoir of sad encounters on a good note. He highlighted what a joy it was to work with recent Oscar winner Brie Larson on the upcoming film, "Kong: Skull Island," saying,
I love her. She is so charismatic. She would organize – she was like the only girl there, on set... every weekend she would organize stuff to do for people. We'd go look at kangaroos and she'd organize a trip to an amusement park after they closed. Just stuff for people to do. Because she's over-sensitive about people getting nervous and angry and on each other's nerves. She's incredible.
Thank god for Ma.
Citations: PEOPLE