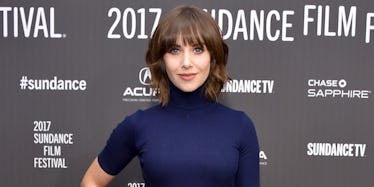 Alison Brie Claims 'Entourage' Producers Asked Her To Go Topless During Audition
Michael Loccisano/Getty Images
A lot has changed since the 1980s, the time period in which Alison Brie's new Netflix series GLOW is set, but apparently sexism in Hollywood is just as prevalent as it was thirty years ago.
Alison Brie opened up about a particularly upsetting television audition early in her career at the ATX Festival over the weekend, as reported by Entertainment Weekly.
Apparently, when Alison went in for a small part on the HBO series Entourage, Brie claims the show's casting directors asked her to take her top off. Brie reportedly told EW:
Early in my career, I auditioned for three lines on an episode of Entourage that I had to go on in a bikini! Or like shorts and the tiniest shorts. And they were like, 'Okay, can you take your top off now?'
Elite Daily reached out to HBO and Entourage for comment but did not hear back by the time of publication.
Brie never wound up appearing on Entourage, and she went on to describe just how desperate a lot of actresses can become for even minor roles, given how difficult it is for women to find substantial, empowering roles written for them.
Brie reveals she's gone in for small parts in Marvel movies — a predominantly male-lead franchise, which also happens to be one of the most successful in the business right now — and begged producers for even a brief, throwaway role.
I've gone through auditions for Marvel movies and auditioned a million times for roles with three lines and you are begging for them. And I'd be glad to get them! It's brutal, it just is.
But her new series GLOW turns that gendered power dynamic on its head. The new Netflix series about women wrestlers in the '80s stars Brie and an ensemble cast of actresses. In the same vein as Jenji Kohan's other Netflix series Orange Is the New Black, it will feature significantly more substantial and interesting roles roles for actresses than has come to be expected.
GLOW will premiere on Netflix on June 23.