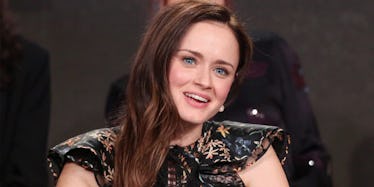 Alexis Bledel Gave Us The Tiniest Bit Of Hope For A New 'Gilmore Girls' Season
REX/Shutterstock
Warning: This post contains spoilers for "Gilmore Girls: A Year in the Life." Like, THE spoiler. If you haven't seen it, stay away, and also, watch TV faster. Seriously.
All right, I'm just going to say it, even though I have no actual proof this is true: There's totally going to be another "Gilmore Girls" season.
Again, I don't have proof this is actually happening. But I do have a few things that could maybe, kinda, SORTA be evidence. If you squint.
The most recent piece of evidence is this interview with Alexis Bledel, aka Rory Gilmore.
During a press tour for her upcoming role in Hulu's "The Handmaid's Tale," the 35-year-old actress faced the question everyone in "Gilmore Girls" has to deal with now: Will there be more seasons?
(Sorry guys, but really, blame Amy Sherman-Palladino for ending on that cliffhanger, not us!)
Like those who have come before her, Alexis wisely kept her answer open-ended.
She said,
I haven't heard anything. It hasn't been a conversation as of yet. All of us are just wanting to tell a good story. The only thing I can say about future installments is that it would be about the story and the timing. We want to tell a great story.
Well, I'd say there's definitely still potential for a story, considering we don't even know who the heck is the father of Rory's baby.
But when it comes to the baby daddy question, Alexis says she hasn't really thought about it. (We get it, you're not as obsessed as we are!)
She said,
I honestly haven't gone down that path of imagining it. It all lives in Amy's imagination. She has a very clear vision and always has and we haven't had input as to the stories and the characters on the show very much.
How was that not your first question as soon as you read the script, Alexis?!
Anyway, the point is, Alexis clearly is not ruling out the possibility of another season.
Milo Ventimiglia (Jess) and Matt Czuchry (Logan) also gave similarly cagey answers to similarly pointed questions recently.
Sounds to me like somebody's been coaching them very carefully about this, so I'd say, even if it not's happening soon, the creators are definitely at least considering a new season.
And my final piece of evidence is this Netflix tweet from before the new year.
What kind of monster would tweet that without following through?
Let's just pray to Amy Sherman-Palladino that Rory doesn't birth the child of a Wookiee.
Citations: Alexis Bledel Isn't *Totally* Ruling Out Another Season of "Gilmore Girls" (Seventeen)