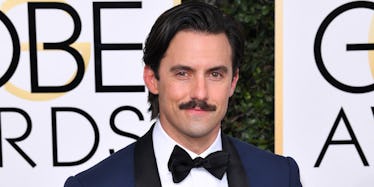 Jess's Theory About Rory's Baby Makes Us Think 'Gilmore Girls' Isn't Over Yet
REX/Shutterstock
Warning: This post contains spoilers for the final episode of "Gilmore Girls: A Year in the Life." But if you really care about spoilers, I sincerely hope you've watched it by now.
If you thought 2017 would be the year everyone finally stopped talking about "Gilmore Girls," you were very wrong.
We will continue you badgering you until you've watched this beautiful show, and we will continue to badger the creators until they give us some damn answers.
For that reason, I'm very pleased Variety stepped up at the Golden Globes on Sunday and asked Milo Ventimiglia (AKA Jess) the question the revival so rudely left us with: Who the heck is the father of Rory's child?!
Milo didn't have much of an opinion on who it was, but he did let us know who he thought it was NOT.
The 39-year-old actor said,
I don't think it's any of the three guys at all. I don't know. I haven't really sat around and thought about it, wondering who it was, so I'll be as surprised as anyone else is.
OK, OK, we get it, you're too busy having a mustache in "This Is Us" to think about "Gilmore Girls"!
But can we talk about that last thing he said?
I'll be as surprised as anyone else is.
UM. SURPRISED WHEN EXACTLY, MILO?
Are you saying you'll be surprised when you get the script for the next "Gilmore Girls" season that is clearly being written? WELL? ARE YOU?
Listen, maybe I reading too much into Milo's answer here.
But there have been other signs that "A Year in the Life" isn't the end of Rory and Lorelai, too.
I mean, look at this tweet from Netflix, from right before the new year:
Why would Netflix be stirring that pot unless they were planning to serve us some more "Gilmore Girls" stew?!
And then there's that cagey answer we got from Matt Czuchry, aka Logan, where he said he'd "leave it to Amy and Dan [Palladino]" to answer the question of how Logan would react to those last four words.
LEAVE IT TO AMY AND DAN TO WRITE THE NEXT SEASON, IS THAT WHAT YOU MEAN MATT?!
So if we are getting another season, and it's not Logan's baby, as Milo says...does that mean we're left with the Wookiee?
(Probably not, the timing of the pregnancy is off. Milo, what are you on about?)
Citations: https://www.cosmopolitan.com/entertainment/tv/a8577953/milo-ventimiglia-rory-gilmore-baby-daddy/