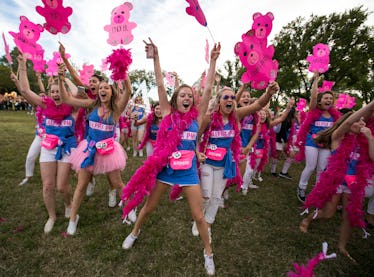 The Bama Rush Documentary Trailer Dives Deep Into The TikTok Drama
Congressional Quarterly/CQ-Roll Call, Inc./Getty Images
Every fall like clockwork, more and more TikTok users lose themselves in a very specific niche: Bama Rush videos. There's just something so captivating about the University of Alabama's hyper-meticulous sorority rush week rituals that totally take over TikTok for a full week in August. But now fans of the vids can dive into the craze even further, because a Bama Rush documentary promises to fully explore how preppy #OOTD videos, viral dance battles, and over-the-top events turned one college campus into TikTok's favorite playground.
The documentary was filmed throughout the University of Alabama's 2022 sorority recruitment week, which took place from Aug. 6 to Aug. 14. The film, which is produced by Vice Studios, was first just a rumor among suspicious pledges, before it was finally confirmed in an Aug. 12 New York Times story. Director Rachel Fleit emphasized that the doc would be compassionate to the women rushing, rather than exploitative: "This film is a thoughtful and compassionate portrayal of young women in 2022 as they rush the sorority system at the University of Alabama." Variety has since confirmed that Vice Studios is producing the documentary in association with HBO Max, where it will premiere as a streaming exclusive on May 23.
Eager fans can expect a deep dive into all the TikTok trends that first made Bama Rush a viral sensation in 2021. Most notably, outfit-of-the-day (#OOTD) videos blew up on TikTok during rush week, as pledges showed off how they incorporated their personal style into the strict rush week dress codes that changed daily.
The #BamaRush tag was also full of rushes sharing videos bonding with their pledge class by doing viral dances, and taking viewers inside all the parties and themed events throughout the hectic week.
HBO Max released the full trailer for the doc on May 4, revealing that the project would peel back the pastels and parties of Greek life to expose the darker side of the culture.
Most notably, the trailer revealed that the doc would go meta, covering the paranoia that surrounded 2022 rush week as sorority and fraternity members became aware of the production. The final moments of the first-look video tease threatening message sent by "The Machine," a notoriously problematic secret society at the University of Alabama.
You can watch Bama Rush when it streams on HBO Max on May 23.
This article was originally published on