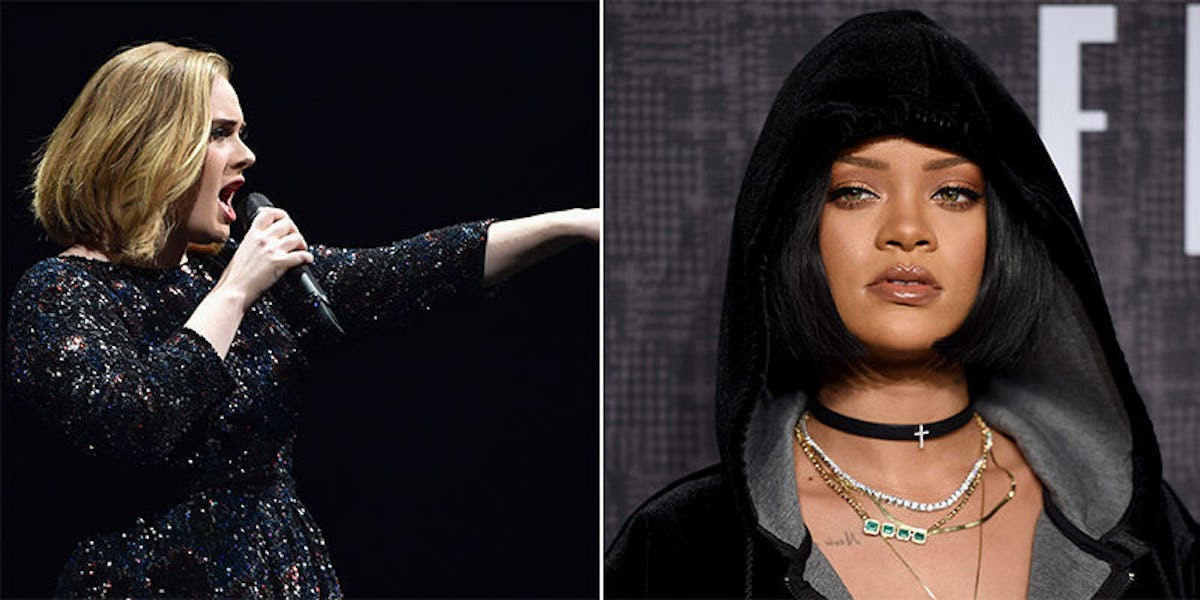 Adele Says She Won't Go To Rihanna's Concert For The Funniest Reason
Getty Images
As much as Adele seems like a real DGAF badass, it is important to remember she's a professional musician at the top of her game juggling obligations and responsibilities.
For example, homegirl cannot simply pick up and wander off to the UK for a Rihanna concert like the rest of us (wish we could), especially when she has her own gig the following day.
During a six-night residency at The O2 in London, the singer claimed,
I love [Rihanna]… I'm thinking of going to Coventry to watch Rihanna because she's playing Wembley the day before I play Glastonbury, and if I go to that, I'll have no voice, I know it. All that weed in the air as well — I'll get stoned.
Though no one is forcing Adele to directly partake in any of the weed-air she's concerned about inhaling, it's common to fear losing one's inhibitions in the presence of RiRi, Kween of the Damn Universe: 1988-Eternity.
After the work the 27-year-old Grammy winner underwent to heal her vocal chords back in 2011, it also makes sense she would take extra precaution to preserve the voice that makes the world weep with reckless abandon.
We appreciate you taking one for the team, Adele.
Citations: Adele Won't Attend Rihanna's Concert Because She Might Accidentally Get 'Stoned' (Us Weekly)