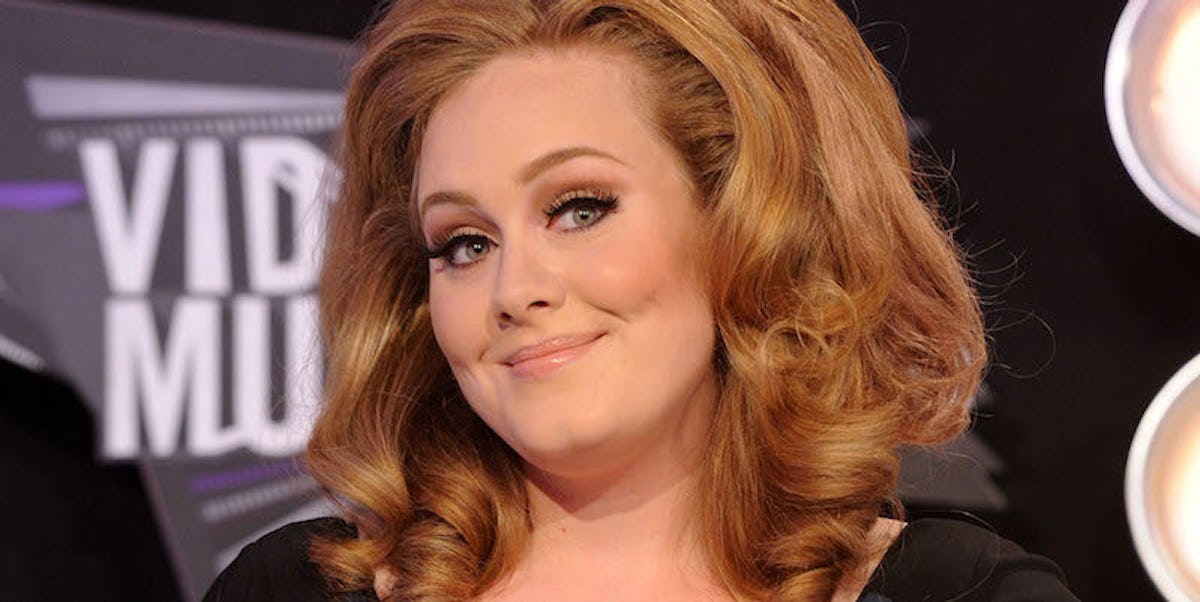 Rumour Has It: 7 Reasons Adele Restores My Faith In Humanity
Getty Images
Step aside #QueenBey, we've got a new goddess in town.
I will never forget the first time I heard "Rolling In The Deep."
It was right after my first real breakup with my first real boyfriend.
I was 15 years old sitting in the car with my mom. Tears streamed down my face as the lyrics, "We could have had it all," blared through the speakers.
Her first two albums, 19 and 21 changed my life, and I cannot wait for 25 to do the same.
Adele has been there for me when I thought my heart was physically breaking.
I have belted out "Rumour Has It" in the car, sobbed into my pillow to the croons of "Chasing Pavements" and reflected on my past with the release of "Hello."
Her music has taught me about love and loss, spoken to me about life's troubles, and guided me through every stage of heartache.
Adele is more than a vocal powerhouse and total badass; she is revolutionary.
The day "Hello" was released, my faith in music was restored.
In just 24 hours, the music video hit 27.7 million views, breaking Taylor Swift's previous record.
In the age of crappy, over-processed music about sex and drugs, Adele woke up the world with raw talent and authentic lyrics.
I am glad humanity still values these things.
Here are five reasons why Adele has restored my faith in life, love and music:
1. She is classy AF.
In a world of butts, boobs and naked Kardashians, Adele is a breath of fresh air.
"I don't make music for for eyes, I make music for ears," she says.
Her style oozes sophistication and reminds us all that covering up can be so much sexier than baring it all.
2. Her music speaks truth.
Adele just gets it. Her lyrics somehow capture the feelings of heartbreak in an understandable, but poetic way. They hit you in the gut, no matter how many hours the song has been on repeat.
3. She is not afraid to show emotion.
In both her music and her performances, Adele isn't scared to cry.
As I am apart of a generation that is really successful at numbing pain, it is amazing to have a role model who is literally fearless with her feelings.
4. She breaks all the rules.
I feel like Adele doesn't listen to anybody but herself. She is so uniquely HER.
Between the swearing like a sailor, and the cackle that will seriously make you giggle, there is something truly authentic about her.
5. Adele doesn't get involved in the drama.
Have you ever seen a nasty tabloid about Adele? Me neither. That's because she stays out of it.
She doesn't talk bad about other celebrities or partake in scandals. She just does her own thing, and I love it.
6. She knows what is right for HER body.
Adele doesn't feel the pressures to be a size 0 because she knows what is realistic for her body, and makes choices on what makes her feel good.
"I do have body image problems, for sure, but I don't let them rule my life at all," she reveals.
Adele realizes that there are more important things to worry about.
7. She makes us all believe in something again.
Adele's music is known for being melancholy, as most of it reflects on heartbreak, but it heals us.
Her music gets us through the nights of loneliness and pain and makes us wake up realizing that we are going to be okay.
I am counting down the minutes until November 20.
25 has me feeling like a giddy child, anxiously waiting at the top of the staircase on Christmas morning.
I have no doubt that Adele will shock us again with beautiful vocal arrangements, powerful lyrics and of course, remind us that music has a way of healing us all.