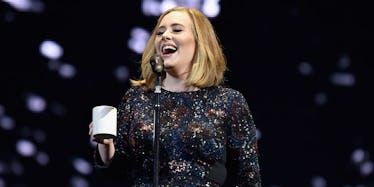 Adele Helped A Fan Propose To Her Boyfriend At Her Leap Day Concert
Getty Images
Normally, I would murder anyone who tried to pressure me into marriage by proposing in a public setting. But I gotta say, if you got freakin' Adele in on the pressuring, I might make an exception.
At her concert in Belfast, Northern Ireland on Monday, Adele kicked off the opening night of her world tour by doing that very thing. During a pause, Adele pulled a fan to the stage in front of more than 11,000 people.
The fan told Adele she had proposed to her boyfriend earlier that day, but his answer was "maybe in a little while."
Adele, staying true to girl code, called out this wishy-washy dude, whose name is Neil, in front of everyone. She even got the whole crowd to shout,
Come on, Neil!
Neil finally said "yes," and Adele invited herself to the wedding. I'd have said "yes" just for the free wedding concert.
Citations: Adele kicks off world tour by helping a woman propose to her boyfriend on stage (and she invited herself to the wedding too) (Metro)