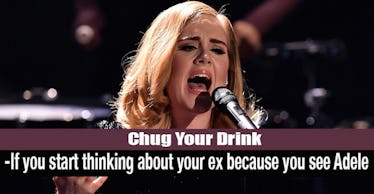 The 'Adele At The Grammys Drinking Game' Because WTF Else Matters?
Getty Images
Anyone who watches awards shows knows the red carpet and live performances are easily the best parts.
There's really nothing better than checking out the outfits your favorite celebrities are wearing and then listening to an emotional set of songs that are bound to make you feel things.
It happens every year, from Beyonce's "Take My Hand, Precious Lord" to Katy Perry's touching performance about domestic violence. The Grammys is not only a time to reflect on the past year's greatest musical accomplishments, it's a time to also be overwhelmed with lots of unexpected emotion. IT'S BEAUTIFUL, REALLY.
Well, this year the QUEEN of feelings, the goddess of emotion, the brilliant and beautiful Adele will be performing at the Grammys on Monday, February 15.
Adele hasn't performed at the Grammys since 2012, so this performance is expected to be emotional AF.
After her amazing comeback and record-breaking album, "25," it's obvious no matter how much time passes, Adele has the power to forever make us break down in tears, cry over our exes and totally lose our sh*t.
I know most of us, well, a few of us, may actually care about the awards. But let's be real for a sec: How many of us are actually just watching this damn show to see Adele tear sh*t up? Yeah, I know I am.
If you're constantly in awe over her talent, mind and beauty AND planning on watching the Grammys this Monday, I have the PERFECT drinking game for you.
Below, check out the official "Adele At The Grammys" Drinking Game because, when it comes down to it, WTF else matters?
Sounds like a blast, right?
While watching the show and drinking your sorrows, don't forget to tweet us your thoughts. We'll be live-tweeting the event all night long on @EliteDaily. We'll also be sharing our thoughts on Snapchat (elitedailysnap).
That's really it, folks. We'll see you, Adele and hopefully none of our exes this Monday night. Cheers!