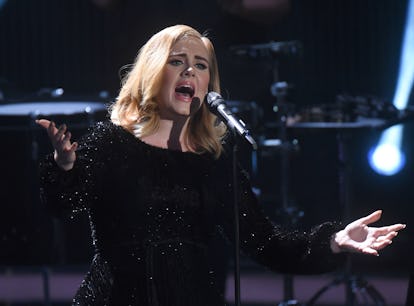 Adele Is "Gutted" About Postponing Her Vegas Residency
The good news? She's rescheduling the concert dates.
picture alliance/picture alliance/Getty Images
Fans will now have to wait a little longer to see Adele in concert. After dropping her highly-acclaimed fourth studio record, 30, on Nov. 19, the singer announced she would be launching a Las Vegas residency in 2022. It was supposed to kick off on Friday, Jan. 21, in the Colosseum theatre at Caesars Palace Hotel, but a day before her first show, Adele revealed she had to postpone all of her upcoming performances due to COVID. She apologized to fans for the last-minute change but promised she's working on getting her shows rescheduled. While it's unclear when she'll return to the stage, here's everything we know about Adele's 2022 Vegas residency.
Adele's Las Vegas residency, titled Weekends With Adele, would have consisted of her first live concerts in five years. They were supposed to take place every weekend from Jan. 21 to April 26, and while it would have been amazing to see her live in concert again, the singer made it clear everyone's health and safety comes first. Thankfully, it seems fans will have plenty more chances to see Adele in the future because her residency is getting rescheduled.
Since there have been a few updates, check out all the new details about Weekends With Adele below.
Adele's 2022 Vegas Postponement
Hours before Adele was set to perform her first show in Vegas on Jan. 21, the singer announced her residency won't be happening as planned. "I'm so sorry but my show ain't ready," she said in a tearful video on Instagram. "We've tried absolutely everything that we can to put it together in time and for it to be good enough for you, but we've been absolutely destroyed by delivery delays and COVID."
"Half my crew, half my team is down with COVID," she continued. "They still are, and it's been impossible to finish the show, and I can't give you what I have right now, and I'm gutted."
Adele apologized for making the announcement last-minute, especially to those who traveled far to come to see her in Vegas for her first show. "We've been awake for over 30 hours now trying to figure it out, and we've run out of time," she said. "And I'm so upset, and I'm really embarrassed."
"We're going to reschedule all the dates, we're on it right now, and I'm going to finish my show," she added. "I want to to get it to where it's supposed to be [but] we've been up against so much and it just ain't ready."
Adele's Vegas Residency Setlist
An official setlist has yet to be released for her residency, but it's safe to assume Adele will be playing songs off her most recent record, 30. The lead single, "Easy On Me," is likely to appear on the setlist. Additionally, the singer will surely play a few fan-favorites. Songs like "Hello," "Someone Like You," and "Rolling in the Deep," often make their way onto Adele's setlists. As she recently told Oprah Winfrey during her CBS One Night Only special, "Hello" is the song she plans to start each show with from here on out.
Adele's Vegas Residency Venue
Every show in Adele's residency was supposed to take place in The Colosseum at Caesars Palace.
How To Get Tickets To Adele's Vegas Residency
Tickets for Weekends With Adele went on sale back in December. Due to the postponement, it's likely fans who purchased tickets will be able to get refunds in case they aren't able to attend Adele's rescheduled shows. It's unclear whether the singer will also be adding more dates to her residency in the future when she reschedules.
Adele's Vegas Residency Dates
As of right now, Adele has yet to announce her new dates for her residency, but fans should be on the look for updates on her social media pages.
This article was originally published on