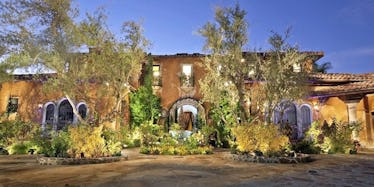 There's An Actual Family Who Lives At 'The Bachelor' Mansion Most Of The Year
TODAY
Hey! If you want to live in the mansion from "The Bachelor" and have a spare billion-ish dollars, you can!
Even casual fans of ABC's reality franchise know for the most part, the show takes place in a big-ass mansion.
Occasionally the group will go over to beaches or a house made of ice on the side of a volcano or something, but at the end of the day, they rest their heads at the Bachelor Mansion.
Like most people, I assumed the house was either on some soundstage in LA somewhere or at the very least owned by ABC and used exclusively for when the show is taping or when uber wealthy network heads need to house their swanky Hollywood key parties.
It turns out neither is the case.
Apparently, an actual family owns the mansion and they actually live in it full time -- when the show isn't recording Nick Viall dicking his way to the reality TV hall of fame.
Marshall Haraden built the 9,000-square-foot, six-bedroom, nine-bathroom mansion in 2004 for his family. After it was built, ABC contacted Haraden to work out a way for the network to film in the house and have the family live there.
An agreement was reached that the show would film in the house biannually for two seven-week intervals. So now, twice a year, the family packs everything up, moves it all into storage and heads to a different residence.
When the Haradens leave the house, a crew comes in to repaint the walls, install the cameras, prepare the rest of the house for the shoot and buy a crap ton of booze and candles.
When the show is over, the crew puts everything back to where it was and the Haradens move back in.
Marshall Haraden told TODAY,
When [the crew] comes, we move out for 42 days. Everything we own leaves the property and goes into storage.
Citations: The Bachelor Mansion Has A Real Family Living In It 281 Days A Year (Refinery29)