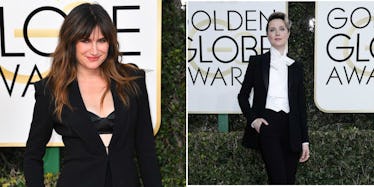 Actresses Are Wearing Pantsuits On The Golden Globes Red Carpet And We Love It
REX/Shutterstock
Hillary Clinton made history in countless ways this past year, but her influence on the fashion world is not talked about nearly enough.
On Sunday night's red carpet for the 2017 Golden Globes, female celebrities stepped out wearing stunning suits, which I predict Vogue will deem as "utterly Clinton chic couture."
Specifically, Octavia Spencer, Kathryn Hahn and Evan Rachel Wood put their best pant-legged foot forward for this year's Golden Globe Awards.
The show is being held at The Beverly Hilton in Beverly Hills, California and will air at 8 pm on NBC.
It's sure to be a huge night once the real show begins, but these stunning, patriarchy-stabbing looks from the 2017 Golden Globes red carpet have already stolen the spotlight.
Octavia Spencer donned an all-black pantsuit. She is nominated for Best Supporting Actress in a Motion Picture for her role in "Hidden Figures."
Kathryn Hahn showed up in another all-black ensemble. Her peek-a-boo style bralette is what I presume to be a big "F OFF" to the customary ball gowns on the red carpet. Hahn plays Raquel Fein in "Transparent," which is up for Best Television Comedy Series.
Evan Rachel Wood, who is up for Best Supporting Actress in a Drama Series for her role in HBO's thrilling new series, "Westworld," channeled David Bowie and Marlene Dietrich.
Wood also told Ryan Seacrest,
I want every girl to know she can wear a suit.
Uh huh, huney.
This year's Golden Globes will be hosted by Jimmy Fallon, so you can expect some solid lines, a few eye rolls and a lot of shots of Fallon laughing at his own jokes.
Make sure to watch the 2017 Golden Globes, or at least follow along with Elite Daily's live coverage of the show so you have something to talk about at work Monday morning and don't seem like a totally useless, un-pop cultured blob!