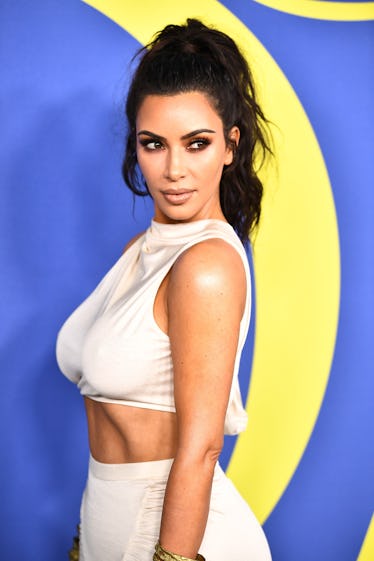 Kim K Says A Photoshoot With Stormi, Chicago, & True Is Coming, So Get Ready
Dimitrios Kambouris/Getty Images Entertainment/Getty Images
Remember back in December 2017 when the Kardashian crew blew up our social media feeds with outtakes from their "25 Days of Christmas" family photoshoot? I mean, how could we forget, right? There was Kim and Kanye, and Mama Kris — even a preggers Khloé. The best part, of course, was getting to see all the adorable kiddos running around. But even though that was only six short months ago, there are now three more munchkins in the mix — Kim's daughter Chicago, Kylie's daughter Stormi, and Khloé's daughter, True. Luckily, a Kardashian baby photoshoot is on its way, according to KKW, and OMG I seriously cannot WAIT to see this adorable triumvirate in action!
"The three little girls are gonna grow up together," Kim told Entertainment Tonight at the 2018 CFDA Fashion Awards on June 5 in New York City. "Chi and Stormi are just two weeks apart and then True is just a few months behind so that's really exciting."
Kim then dropped the news that as soon as Khloé returns to Los Angeles from Cleveland after the NBA finals, the sisters are planning to get their three daughters together for a photoshoot. Because pics or it didn't happen, people!
"We're so excited," she explained. "Me and Kylie and Khloé are planning one of those kids' photo shoots, just like a silly shot that we can have all the girls, 'cause Stormi and Chicago have so many pictures together. So, we can't wait for True to join the crew."
Me neither, Keeks! Although, when this will all go down depends on how Khloé's baby daddy, Tristan Thompson, and his team the Cleveland Cavaliers — who are currently 0-2 against the Golden State Warriors — fare in Games 3 and 4 of the NBA finals, which will take place on June 6 and June 8, respectively. If the Cavs lose both games, it would be a major bummer since I really want them to win. But the silver lining is that KoKo could be back in L.A. as early as June 9, and True will finally get to take her rightful place as part of the Dash doll posse.
In the meantime, Khloé has been busy sharing the cutest pics and videos of baby True on her Instagram feed, her Insta story, and her Snapchat.
There was this one, which she captioned, "Mommy's Little Love":
This one, to mark her little girl's one-month birthday:
And this one, where her daughter is propped up in the corner of the sofa while rocking a big pink bow and matching tutu:
I legit can't stop watching this clip because OMG that child is just such a mush! And I love how the Revenge Body star keeps calling her "Baby True." The whole thing is just so sweet and Khloé is obviously totally in love with her and so happy to be a mama.
A "True" Kardashian, the sweet little girl already has her own Instagram account with over 200,000 followers — even though there is not a single post on there yet! She was born on April 12, so if I'm doing the math right — and TBH there's a good chance I'm not — that's like 3,500 followers for each day she's been alive. I'm not the least bit jealous, are you?
Oh, and get this — True's Instagram name is @true. That's it. Just her first name. Like @zendaya or @beyonce. She's gonna be really psyched about this when she's, like 13 years old and suddenly realizes how freaking dope it is. Unless, you know, Instagram isn't a thing anymore by then.
Anyway, I'm really hoping that when Khloé finally gets back to Cali, a photo of the three cousins will be True's very first post. And until then, at least we'll always have the bunny ears Snapchat: