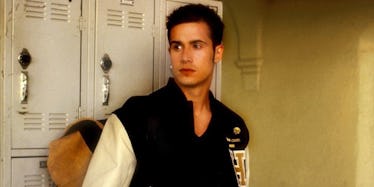 Good News: Your Favorite '90s Teen Heartthrobs Are Now Sexy Men
Miramax Films
In recent years, the '90s have been making a major comeback. Nineties fashion is back in vogue.
Nineties music is, all of a sudden, all over the radio. And some of the decade's best TV shows are getting spinoffs, reboots, or simply picking up where they left off 20 years ago (looking at you, "Fuller House").
With characters like Uncle Jesse and Shawn Hunter returning to the silver screen, I thought it would be fun to take a trip down memory lane and revisit the decade's hunkiest heartthrobs.
It didn't take long for me to realize just how full of cuties the '90s were — and how excited I am to see some of these familiar faces again.
Below, check out the 10 hottest heartthrobs of the '90s... and find out where you can peep 'em next.
Ladies, enjoy.
1. Freddie Prinze Jr.
Then: Prinze Jr. achieved heartthrob status after landing leading roles in teen flicks "I Know What You Did Last Summer" and "She's All That."
Now: Freddie married his "Scooby-Doo" co-star Sarah Michelle Gellar in 2002 and recently authored a cookbook entitled, "Back To The Kitchen."
2. Rider Strong
Then: There wasn't a teen girl in the world who didn't want to run her fingers through "Boy Meets World" character Shawn Hunter's perfect hair.
Now: His hair may be shorter, but Strong — who reprised his role of Shawn Hunter for "Boy Meets World" spin-off series "Girl Meets World" — remains as hunky as ever.
3. Jonathan Taylor Thomas
Then: JTT, who played Randy Taylor on "Home Improvement," rocked the hot "boy next door" look better than any other actor.
Now: After a nearly decade-long hiatus from Hollywood (during which time he attended Harvard and Columbia), Thomas returned to acting in 2013 with a small role on the TV series, "Last Man Standing."
4. James Van Der Beek
Then: As the star of the ultra-popular drama "Dawson's Creek," Van Der Beek was adored by teen girls (and, OK, full-grown women) everywhere. https://instagram.com/p/BB0TiMeyieH/embed/
Now: Van Der Beek has been acting consistently since "Dawson's Creek" ended in 2003 and currently stars on the cop drama, "CSI: Cyber." https://instagram.com/p/wDKcXySg1X/embed/
5. John Stamos
Then: As the leather-wearing, guitar-playing Uncle Jesse on "Full House," Stamos made bad look so, so good.
Now: It's been 20 years since "Full House" ended, and Stamos is just as swoon-worthy as ever. Two decades have done Uncle Jesse right.
6. Ryan Phillippe
Then: Phillippe starred alongside Freddie Prinze Jr. in "I Know What You Did Last Summer," but it was his role in 1999 film "Cruel Intentions" that confirmed his sex-symbol status.
Now: As part-owner of production company Lucid Films, Phillippe mostly works behind-the-scenes, directing and producing both films and television shows.
7.Joshua Jackson
Then: Jackson starred alongside James Van Der Beek on teen drama "Dawson's Creek" as the effortlessly cool Pacey Witter.
Now: Jackson re-claimed his teen heartthrob status as bad-boy genius Peter Bishop on sci-fi series "Fringe," which he starred in from 2008-2013.
8. Leonardo DiCaprio
Then: Leonardo DiCaprio was every girl's dream guy.
Now: Leonardo DiCaprio remains every girl's dream guy.
9. Josh Hartnett
Then: Hartnett won over girls' hearts as the impossibly cool Trip Fontaine in 1999 film "The Virgin Suicides."
Now: The 37-year-old stars as resident badass Ethan Chandler on Showtime's dramatic thriller series, "Penny Dreadful."
10. Mark-Paul Gosselaar
Then: As Zack Morris on "Saved by the Bell," Gosselaar was the epitome of teenage heartthrob.
Now: Gosselaar has starred in dozens of TV series since the completion of "Saved by the Bell," including "NYPD Blue," "Franklin & Bash" and "CSI."