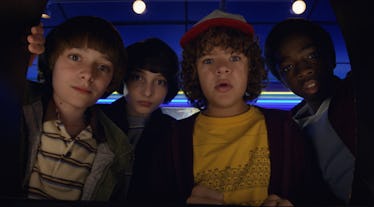 If You Love 'Stranger Things,' Here's What You Should Watch On Netflix Right Now
Netflix
Do you remember what last fall felt like just before Stranger Things Season 2 started streaming? The anticipation reached a fever pitch, fans had nine hours of never-before-seen TV ahead of them, and the fate of Eleven, Mike, and company was relatively unknown. Now, months later, with the last chapter of the show behind us and what seems like ages to go until its return, you might want to tap into something new. If you're missing that Stranger Things feeling and hoping for sci-fi shows on Netflix to fill the void, you're in luck.
"I mean, one of the things that's annoying for fans is that it takes us a long time to do them," David Harbour told Variety regarding when Stranger Things fans should expect a third season. "Like, you probably won't get [Season 3] until sometime in 2019. But also part of the thing is, like any good thing, they need time. And those guys work so hard. I mean, they just sit in their apartment and write for 12, 14 hours a day."
We get it. It's difficult to make a show like Stranger Things, and nobody wants greatness rushed. But it's going to be OK, guys. Here are six sci-fi TV shows you should probably watch while you wait for the Netflix fan-favorite to return.