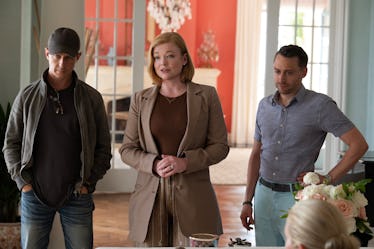 11 Behind-The-Scenes Facts About Succession
Get hype before the next episode.
Claudette Barius/HBO
It's the beginning of the end for HBO's Succession. The fourth season, which premiered March 26, is confirmed to be the last ever. After a shocking Season 3 finale filled with betrayal and new alliances, the Roy fam is back again. Kendall, Shiv, and Roman have gone bicoastal and are living in Los Angeles to collab on their business ventures — and Logan is determined to make them crash and burn.
In the wake of Shiv and Tom's separation after last season's shocking finale, Tom and Greg combined forces to form the "Disgusting Brothers," which kinda speaks for itself. At the end of Season 3, Willa gave a less-than-enthusiastic response to Connor's proposal (which might break the world record for the amount of "f*ck it!"s in one conversation). Now, this season will see the couple headed toward their wedding as Connor makes a bid for president, holding onto his 1% of voters for dear life. Time will only tell what else is in store for this endlessly messy family.
Even though fans are tuning in to see the actors portray family members with a love-hate relationship, there's plenty happening behind the scenes of the Emmy-winning series.
New episodes from the fourth season of Succession drop Sundays at 9 p.m. EST on HBO/HBO Max.
This article was originally published on