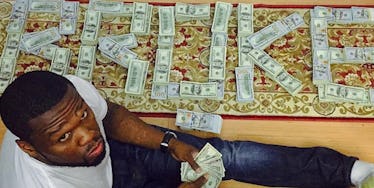 Broke As A Joke: 50 Cent Shows Off Just How Bankrupt He Really Is
In July, 50 Cent, aka Curtis James Jackson III, filed for bankruptcy in a Hartford, Connecticut court.
In the bankruptcy petition, the rapper reported estimated assets and debts in the $10 million to $50 million range.
It all seemed a little odd, considering 50 Cent is the founder of G-Unit Records and G-Unit Films and cofounder of the G-Unit Clothing Company.
He was also a minority shareholder in Vitamin Water, from which he reportedly earned $100 million after Coca-Cola purchased the brand's parent company, Glacéau.
It seemed odd, indeed  --  until you take into account when the petition was filed: just three days after a jury ordered 50 Cent to pay $5 million to a woman claiming he uploaded her sex tape without his consent.
As AllLaw.com explains, filing for bankruptcy may eliminate liability to pay off judgments.
Well, on Wednesday, 50 Cent proved just how broke he is (not), when he shared several Instagram posts of him rolling around in piles of cash.
Here he is, spelling out exactly how broke he is:
Here he is lying around in what we can only assume is the very last few dollars he has, since he's bankrupt and all:
And here he is making jokes about how broke he is:
Good for you, 50 Cent, way to show America just how fair and balanced our legal system really is.
Citations: Bankrupt 50 Cent just posed with piles of money (Mashable)