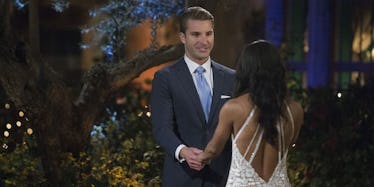 4 Things To Know About The Tickle Monster From 'Bachelor In Paradise'
ABC/Paul Hebert
There have been some pretty odd job descriptions used in Bachelor history, but one that stood out like a sore thumb the most had to be Tickle Monster. What does that even mean?! Jonathan Treece of Rachel's season of The Bachelorette decided that's what he was going to list as his job, even though he's actually a doctor. We honestly don't know why he wouldn't lead with that... That's a real thing. And it's probably one of the more noble professions we've seen when it comes to the contestants. So, what kind of doctor is the Tickle Monster, really? And what else should we know about this oddball character now that he's on Bachelor in Paradise?
He's An Actual Doctor
Being a Tickle Monster probably doesn't pay the bills, so it's good that Jonathan has a legit medical degree to fall back on. In fact, the New Smyrna Beach, Florida bro is a family physician who cares for all ages, and according to his LinkedIn, he specializes in weight loss and joint injections, among other things that do not include any mention of tickling. Phew. He has his M.D. from the University of Arkansas. On his date with Christen he told her he had "delivered hundreds of babies," but he no longer does that kind of work.
He's Been Married Before
According to his Bachelorette bio, there was a Mrs. Tickle Monster at some point in the past. Treece admitted that the most romantic gift he had ever given someone was "an engagement ring." (We're just glad it didn't have to do with tickling). When asked about his virginity, he revealed that he lost it to his ex-wife. "Pretty uneventful," he added. There you have it, folks.
He's a Surfer Dude at Heart
Treece's only hobby isn't just tickling people -- the guy clearly loves to hang ten. Just look at that sweet long hair and those shredding skills. While out on his date with Christen in BIP he said that he loves that he's able to leave work in board shorts and go surfing. Cowabunga.
So, What's With That Whole Tickle Thing?
Even Chris Harrison went ahead and asked him if he thought the habit was a bit creepy. Treece's response? "I don't think that it's creepy. I fully embrace the Tickle Monster." Well, duh. You're the Tickle Monster. "I'm guaranteed to give them a good laugh," Jonathan explained. "Whether it's with me or at me." OK, at least he can make fun of himself. It seems like the other contestants think he's a super solid guy -- even Dean admitted that the Tickle Monster "got a bad rap." And Christen clearly liked his tickle-tastic vibes, so there's that. And even though he kissed her while wearing those seriously awkward baby doll hands, she was still into it. Aww.
We'll find out if this Tickle Monster/doctor (those really should not be in the sentence) will find everlasting tickle love on BIP. And if we have any advice for him, it's that he should probably tell people he's a doctor and then slowly get into that whole tickling thing. Just sayin.'