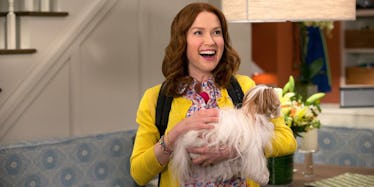 11 Female TV Characters Just As 'Unbreakable' As Kimmy Schmidt
"Or you can stand up and say, 'We're different. We're the strong ones, and you can't break us.' We are going to pay the rent, I'm going to get my job back, and I'm going to kiss a boy."
One of the many lessons that my favorite TV shows have taught me is this: If you have a big dream, you have to be ridiculously "unbreakable" to address the many obstacles you will find on the way to seeing out your dream.
The problem is that it's not so easy to be unbreakable. It's a little like being able to get up very early every morning or to fight the temptation to eat (more) chocolate after dinner.
Perhaps, with the help of time and some training, you can become more determined, strong and resilient.
But, you can never be prepared for the many small or big problems of everyday life, even if you exercise consistently like Chris Traeger in "Parks and Recreation" or you become filthy rich like Jack Donaghy in "30 Rock."
What, then, is the secret of being unbreakable?
Well, it's hard to describe with certainty, but you can try to trace a piece of each of the following female characters who have reshaped and enriched television during the last five years or so.
In each of them is a hidden bit of that "unbreakability," which is needed to overcome the endless obstacles of life and achieve our goals.
1. Jacqueline Voorhees, "Unbreakable Kimmy Schmidt" (unbreakable since 2015)
Created by Tina Fey and Robert Carlock ("30 Rock"), this new, brilliant Netflix comedy revolves around the adventures of "unbreakable" Kimmy Schmidt (Ellie Kemper).
But, Kimmy is not the only one who is unbreakable. Her employer, the rich and sophisticated Jacqueline (Jane Krakowski), is pretty much the same way.
Just like Kimmy, Jacqueline is hiding a terrible secret. And, like any terrible secret, the unbearable possibility that someone will discover it makes Jacqueline nervous and fragile.
It's perhaps for this reason that, in times of need, her incredible ability to get up and start over again is just as unique and admirable.
2. Ilana Wexler, "Broad City" (unbreakable since 2014)
Not everyone can be inexplicably tender and eccentrically clumsy, often happy-go-lucky yet sometimes terribly distressed, crazy and transgressive, egocentric yet sensitive and radiant yet vaguely dark — but Ilana pulls it off.
Not everyone, in short, can be that unbreakable and still rock her style.
3. Claire Beauchamp, "Outlander" (unbreakable since 2014)
Imagine being suddenly catapulted into the past and moreover, in the midst of an unscrupulous Scottish clan of 1743.
Here, your life is continually put at risk because of some rude man and you're also forced to stay in a castle as a healer, no longer able to return to the time from which you came. That requires a true unbreakable spirit.
4. Christy Plunkett, "Mom" (unbreakable since 2013)
If there is one thing that Christy (Anna Faris) has taught us, it's that the true love of a mother and that for a daughter can make you forget the many debts you have amassed while you were still addicted to alcohol and drugs.
5. Piper Chapman, "Orange Is the New Black" (unbreakable since 2013)
Sometimes we put ourselves in trouble and it's all our fault. But, life didn't exactly offer a helping hand when it tripled our troubles all of a sudden, did it? And, what's worse than having to pick up the pieces in a women's prison?
6. Caroline Channing, "2 Broke Girls" (unbreakable since 2011)
We all have our "ups and downs," as that song by Golden Smog says. But, say you were born rich and you lose everything because your father is suddenly arrested.
Say you graduated from Wharton and you're now forced to work as a waitress in an awful, unstylish Williamsburg diner. The only way to survive is to adopt an unbreakable spirit.
7. Arya Stark, "Game of Thrones" (unbreakable since 2011)
Losing most of your family members, especially when you're still so young, is not something that you would wish upon your worst enemy.
Unless, of course, your name is Arya Stark (Maisie Williams). In that case, you would wish your worst enemy death – especially because of your hands.
8. Carrie Mathison, "Homeland" (unbreakable since 2011)
Being a CIA agent is already difficult in itself, let alone when you're also dealing with a bipolar disorder.
9. Emily Thorne, "Revenge" (unbreakable since 2011)
Revenge, you know, is a double-edged sword. Sometimes it can even become your only purpose in life; in that case, the price to pay is very high.
The inevitable loneliness, as well as the slow yet inexorable descent into revenge addiction, are only a few examples of it. And, in the end, you have to be really unbreakable in order not to fall into the traps you created for yourself.
10. Lady Mary Crawley, "Downton Abbey" (unbreakable since 2010)
Losing a sister and then a husband is awful, but having to accept their untimely deaths in a world where you need to be always well dressed, polite and refined well-mannered is an even greater burden to bear.
 Luckily, if there is one person who will never fail to be well dressed and refined in manner, it is precisely Lady Mary (Michelle Dockery).
11. Bonnie Bennett, "The Vampire Diaries" (unbreakable since 2009)
How many times has one of our favorite witches died and been resurrected? Nevertheless, unbreakable Bonnie (Kat Graham) certainly isn't an ordinary witch. If you look at the definition of the word "bossy," indeed, you will most likely find just her name.