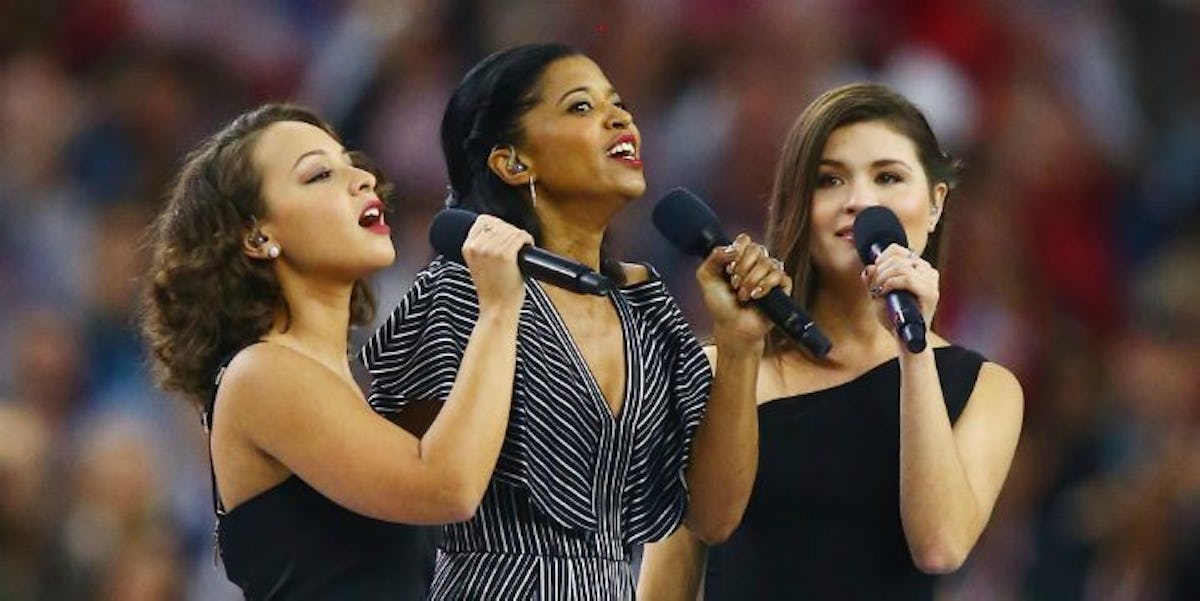 Schuyler Sisters From 'Hamilton' Slayed 'America The Beautiful' At Super Bowl
REUTERS
Guys, 2017 is not the greatest time to think patriotic thoughts about the good ole US of A.
However, if there's anything in our culture that can boost our patriotism (and by that, I don't mean your love of the Patriots), it's "Hamilton."
You know, that little known musical about a bastard, orphan, son of a whore and a Scotsman?
Well, stopping by the ole Super Bowl on Sunday were none other than the Schuyler sisters. That's right, I'm talking about Angelica, Eliza and Peggy.
Of course, you may know them by their actual actor names Phillipa Soo, Renée Elise Goldsberry and Jasmine Cephas Jones, the threesome who originated the roles on Broadway.
The three of them sang "America the Beautiful," and see if you can notice any noticeable difference in the lyrics.
I've got to say this rendition worked, worked. Why? Because the trio added "and sisterhood" to the lyrics. They sang,
And crown thy good with brotherhood — and sisterhood — from sea to shining sea.
Heck. Fucking. Yes. Preach, Schuyler Sisters, preach.
It's about goddamn time we officially add "and sisterhood" to this song for good, don't you agree?
I mean, I think if a majority of Americans would have had their way, we would currently be enjoying the first female president instead of the nightmare for democracy known as Donald Trump.
As a result, #AndSisterhood started to trend. "Hamilton" creator and star Lin-Manuel Miranda tweeted his approval.
Forget the actual Super Bowl. It's clear the Schuyler Sisters have won the whole day.
Schuyler Sisters: 100, Football: 0. (These are just the scores I'm personally doling out.)
Although, I wish I could stop watching this game, Tessa. I need to see all the new commercials for the products I can never afford to buy.
Citations: The Schuyler Sisters from 'Hamilton' kill it at the Super Bowl (Mashable)