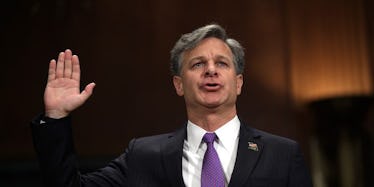 Donald Trump Has A New FBI Director: Here's What You Need To Know
Alex Wong/Getty Images
In the never-ending game of musical chairs that is staffing the Trump administration, a new figure just took a seat. Former assistant attorney general, Christopher Ray, was confirmed as the new FBI director on Tuesday, Aug. 1, CNBC reported. Considering President Donald Trump's staffing drama, the confirmation was surprisingly low-key.
Trump nominated Wray (announcing the decision, of course, via Twitter) in early June, after dismissing former FBI Director James Comey. But what do you need to know about him, now he's officially in office? Let's catch up.
Wray already has experience in the Department of Justice (not to mention political scandals).
He served as assistant attorney general heading the criminal division from 2003 to 2005, under President George W. Bush. He later left for a private law firm, King & Spalding, where he represented New Jersey Gov. Chris Christie in the "Bridgegate" scandal of 2013.
He once allied with James Comey and Robert Mueller on an ethics issue.
He knows both the former FBI director and current special counsel investigating Russian election interference of old. In 2004, while Wray was overseeing the criminal division of the DOJ, he offered to join the two in a protest against a controversial surveillance program, according to The New York Times. All three men were reportedly willing to quit their positions as a matter of principle.
He had bipartisan support for his confirmation.
Wray was confirmed to the office by a Senate vote of 92-5, according to Politico. Senator Chuck Grassley, the Iowa Republican who heads the Senate Judiciary Committee, said that the Senate had faith in Wray's ability to lead the FBI with "integrity, with competence, with professionalism and the utmost respect for the Constitution and the rule of law."
The top Democrat on the committee, Dianne Feinstein, also praised him, telling Politico, "I'm very satisfied that Mr. Wray has the qualifications and independence necessary to lead the FBI."
He promised not to be swayed by political pressure.
In a move that probably did a lot for his support among Democrats, Wray said during his confirmation hearings that he would resist pressure from the White House. "I will never allow the FBI's work to be driven by anything other than the facts, the law and the impartial pursuit of justice. Period," he said, per The New York Times.
It was a strong statement in light of speculation that his predecessor was fired for refusing to bow to pressure from the president. Trump fired Comey in early May, after Trump associate and Former National Security Advisor Michael Flynn resigned over allegations of contact with Russian officials. Comey himself, in testimony on June 8, implied that he believed he had been dismissed for refusing to drop an investigation into Flynn and Russian election meddling.
So will Wray be a shift change for the Department of Justice? We'll have to wait and see.