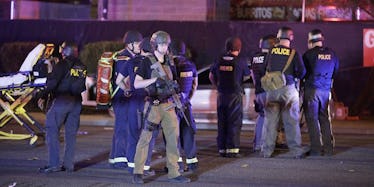 Here's What We Know About The Guns Used In The Las Vegas Shooting
Shutterstock
After Sunday night's mass shooting in Las Vegas at a Route 91 Harvest Festival concert, concerns, fears, and questions have flooded the country. Las Vegas police have debriefed the public and even disclosed details about the guns used in the Las Vegas shooting. According to a tweet published by NBC Nightly News this morning, more than 10 guns were recovered from the 32nd floor Mandalay Bay hotel room where officials believe the gunman was shooting from. The tweet also reported that the search is "ongoing."
Update: Las Vegas Police Department Sheriff Joe Lombardo has confirmed that at least 58 people were killed and over 515 were injured in the shooting. The shooter has also been confirmed dead and is not believed to have a connection to any terrorist group. The number of weapons found in the gunman's possession has been confirmed to at least 19.
Earlier: As details continue to circulate about how many weapons the gunman had in his room, questions about current gun laws in Nevada have also been raised. The National Rifle Association's website details that as of 2015, Nevada residents do not need a permit or license to obtain a firearm and do not have to register those firearms once they are purchased. Handgun owners must have a permit to carry weapons in public places.
Las Vegas police are expected to once again address the public regarding this tragedy, but for now, not many details are known about the shooter. Police have not yet been able to find a motive, but the overwhelming number of guns the shooter had in his room was a standout detail in one of the first TV responses from officials. Social media is pouring with condolences, debate, heartbreak, and of course, outrage.
Yet again, hate has been able to make history and this tragedy has summoned all our attention and an analytical approach to gun laws nationwide. This topic has seemingly become a broken record, but it is tragedies like this where people need to put aside their political prejudices and come together to find a solution to prevent these heartbreaking things from happening.
Hoaxes surrounding this event have also started to make their rounds on social media platforms, so it is important to seek out factual and reliable news sources before you decide to spread any information. There's nothing worse than being an enabler of fake information, especially during such a sensitive and devastating time. It's sad and unsettling to think that anyone would want to stir false news into another bad situation America is facing, but that is one of the downsides of the instantaneous and influential qualities of social media.
For now, there are still many unanswered questions about this tragedy, and officials are still trying to put the pieces together as best they can. Pictures, eyewitness accounts, and actual 911 recordings have been blasted all over TV and social media. All of these paint a picture of panic, sadness, and complete devastation. According to The New York Times, more than 50 people were killed in Las Vegas during the Route 91 Harvest Music Festival's last performance, which featured country singer Jason Aldean.
Seemingly, no matter how many questions become answered by law enforcement officials, the public will always wonder why these types of afflictions continue to happen. Prayers and thoughts for Las Vegas have flooded social media timelines, but there are plenty of others way to help and spread resources to the people directly affected by this act of hatred. Long lines have already started to congregate at locations taking blood donations for the victims. This disaster may have struck one part of America, but we can unanimously come together to aid this part of the country that needs our undivided attention. Think about it — without all of the pieces that make this country, we really wouldn't be whole.