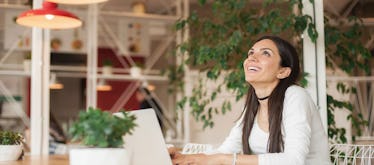 14 Irresistibly Satisfying Products You Can Buy On Amazon Right Now
guruXOX/Fotolia
Gak is back! Ok, the actual Nickelodeon goop isn't terribly popular with adults, but all kinds of weird, gloopy, squeeze-y, and satisfying things on Amazon are there for us to experiment with. Basically, if there's a product that's cool-looking or feels weird, somebody's buying it.
It totally makes sense: There's something irresistible about playing with a textured stress ball or gazing at your nails after you get a manicure that changes color in every light. And there's no better way to de-stress than trying a new product that provides a satisfying sensation.
If you really want to take your weirdly satisfying fixation to the next level, you can try a peel-off hand mask made from milk and honey. Or why not try a clear lipstick that changes colors once it hits your lips? Oh, and that lipstick also has a real flower floating inside, just to make it a little more awesome.
In a world with space putty and floating flower lipstick, it's impossible to resist their satisfying charms. We've gone way beyond Gak at this point and I think that's amazing.
It's now perfectly acceptable for adults to play with putty, balls of skin, and even everyday kitchen tools. Who knew?
1. The Space Putty That Looks Like Magic
KOBRA Products Tytan Magnetic Space Putty, $15, Amazon
This isn't some old school putty that you get bored with after two minutes. This is space putty.
Not only does it a have nice metallic sheen, it also reacts to magnets. So, you can watch the putty move on its own to swallow up your favorite fridge magnet. It's hypnotizing. Plus, it still has the fun, goopy, stretching quality of your less cosmic slimes.
2. A Whisk Cleaner That Gets Every Last Bit
Whisk Wiper, $17, Amazon
If you make frosting or cookie dough, it's always so annoying to watch that sweet goodness get wasted in all the nooks and crannies of a whisk. Thankfully, this whisk wiper completely solves that problem.
This simple tool cleans your whisk with ease and you can enjoy every single bit of your delicious food. Plus, watching all the delicious batter gather at the top makes it one of the most satisfying products ever.
3. A Clay Mask That's Like Pop Rocks For Your Face
Elizavecca Milky Piggy Carbonated Bubble Clay Mask, $11, Amazon
Bubbles make everything better. I'm pretty sure that's some kind of scientific fact. So, why waste your time with face masks with zero bubbles?
This bubbly clay mask gets your skin super clean, clears your pores, and feels a little like a fresh bowl of Rice Krispies on your face. If that sounds weird, it is! Though it's an odd sensation, it actually feels amazing and over 5,000 people on Amazon love it.
4. A Sticky Goo That Picks Up Every Crumb
LHHG Keyboard Cleaner, $14 (4 Piece), Amazon
Trying to clean your keyboard, desk fans, or air vents is a huge pain. Usually, you just end up brushing dust all over yourself while trying to remove all that dust. But this goo makes it so much better.
Just place this gel on your keyboard or whatever you want to clean, and it picks up all the crumbs and dust instantly. It feels like you're just playing with a toy, but you're actually cleaning. It's a little bit of a miracle.
5. A Stress Ball That's Made Out Of Other Balls
YoYa Toys DNA Stress Ball, $16 (3 Pack), Amazon
If you'd like something to play with during the day but don't feel like jumping on the fidget spinner craze, try out this stress ball.
This ball with tons of other little balls inside is super durable and feels fascinating. You get a massage-like effect from the motion of the tiny spheres and it just looks cool. Plus, it won't break, no matter how hard you stress squeeze it.
6. A Glove That Gives A Perfect Massage
Samyo Palm Shaped Massage Glove, $9, Amazon
A self-massage is usually pretty unsatisfying, but this glove makes it amazing. The glove has nine ball bearings that smoothly glide across your skin to get rid of all aches and pains. Sure, it's great if somebody else can give you a massage with it, but however you use it, this glove feels delightful. One user wrote: "Can I just tell you how much I love this thing. I love it, you hear me. L. O. V. E. It. Buy it now."
7. A Soothing Hand Mask That Peels Right Off
XY Fancy Hands Care Paraffin Milk & Honey Peel Off Hand Wax Mask, $11, Amazon
Don't reserve all that peel-off mask action for your face. Here's a wax hand mask that has a super satisfying peel.
The paraffin wax is made from milk, honey, and hyaluronic acid to help your skin absorb all the mask's wonderful nutrients. After the smooth, soothing application, it dries, then peels off for an exfoliating effect.
8. The Foot Peel That Everyone Loves
Grace & Stella Dr. Pedicure Foot Exfoliation Mask, $13, Amazon
Watch all your dead skin fall off with this foot peel. Ok, that sounds like some kind of Walking Dead business, but it's amazing. People love this peel because it makes your feet incredibly soft – and sure, because it's a little disgusting. You wear little booties filled with product, then in a few days, all the dead skin starts peeling away.  It's one of the most satisfying products ever and you wind up with the softest feet possible.
9. The Clear Lipstick That Changes Color On Your Lips
PrettyDiva Jelly Flower Lipstick - Flame Red, $10, Amazon
First of all, this lipstick looks like it belongs in a magical castle since the clear gel holds a tiny suspended flower.
It goes on clear, but changes to a flame red tone once it hits your lips. It feels like a magic trick every single time, but it really works. Plus, it keeps you moisturized with Jojoba Seed oil, vitamin E, and other natural ingredients.
10. A Desk Zen Garden With Magnetic Magic
MagZen Magnetic Zen Garden Box, $35, Amazon
Zen Gardens are one of the most soothing things in the world, but a Magnetic Zen Garden is extra special.
You can still create ordered lines or patterns, but with magnets, you can now build little mounds and statues for a 3D effect. So, it's like a magnetic sculpture toy and a zen garden all-in-one. That's some ultimate stress reduction right there.
11. Color-Changing Nail Polish You Won't Stop Staring At
ILNP Cameo Pink, Purple, Copper, Gold, Green Ultra Chrome Nail Polish, $17, Amazon
I want to paint my house with this nail polish.
The holographic look gives you about 10 colors in one bottle and it changes with every move of your fingers. The chrome finish is beautiful — because who wouldn't love a color changing rainbow in a bottle? The only downside is that you might not get a lot of typing done since you'll be staring at your nails the whole time.
12. The Jet Black Powder That Whitens Your Teeth
Active Wow Teeth Whitening Charcoal Powder, $25, Amazon
Sure, it seems counterintuitive that rubbing a bunch of black powder in your mouth would make your teeth whiter, but it works! This activated charcoal powder is all natural and safely scrubs your teeth to remove stains and lighten their color.
It's also great for your gums, works with sensitive teeth, and doesn't use any weird chemicals, either.
13. The Volcano That Cleans Your Microwave
Kitchen Gizmo Eruption Disruption Microwave Cleaner, $13, Amazon
I never think to clean my microwave, which is a real mistake. But you can make the thing spotless without any chemical cleaners when you use this tiny volcano.
Fill the mountain with water and vinegar (and some optional lemon juice), pop it into the microwave, and all the gunk will come off with a single wipe. Plus, you get to watch a little eruption, which is surprisingly fascinating and cute all at the same time.
14. The Cleansing Gel You Can See Working
Natural Aqua Gel Cure, $25, Amazon
Sure, this looks like some basic, clear gel, but people are crazy about it. It's Japan's number one exfoliator and the product has over 2,000 rave reviews on Amazon. The water-based gel is good for sensitive skin and gets your face insanely clean.
But how is it satisfying? Well, the gel doesn't just wash all your dead skin away. The dead skin balls up in little clumps as you run your fingers over your face. Seeing that dead skin come off is a little weird, but also makes this one of the most satisfying products of all time.
Elite Daily may receive a portion of sales from products purchased from this article, which was created independently from Elite Daily's editorial and sales departments.