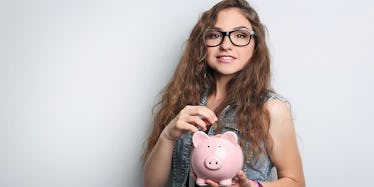 14 Brilliant Adult AF Things For Your Apartment That Cost Less Than $1 On Amazon
Fotolia
Is there any place more fun to shop at than a dollar store? Turns out, there is, and it's on Amazon, where you can get lots of awesome things for around a buck, and you never have to leave your couch. There are tons of top-notch items that cost less than $1 on Amazon, and they're not just things like tissues and glue sticks — these are useful products that function as serious apartment upgrades.
For real, these adult AF Amazon items will make you more organized, aid you in your cooking endeavors, and can even keep your living space cleaner for the price of all the change that's probably accumulated in your purse and between your couch cushions.
And yes, I know, there's a lot of cheap-as-dirt items out there that cost next-to-nothing because they're basically garbage, but that's not the case with these products. From a bottle opener to a snazzy ice cube tray, these are apartment living staples you'll be glad to have.
After searching through the lowest-priced items on Amazon, check out this unbelievable list of functional, efficient stuff that will put your apartment game on point. Read further, and embark upon the cheapest shopping spree of all time. Your apartment and roommates will thank you. (So will your wallet.)
1. This Pastry Brush That's Great For Baking And Cooking
Hosaire Silicone Pastry Brush, $.98, Amazon
A pastry brush is a vital instrument for anyone to have in their kitchen, and this one's conveniently made of silicone for easy cleaning. Consider it your go-to to spread egg washes over cookies or bread, as well as the ideal tool to butter pans or baste meat.
2. This Useful Mesh Holder That Dispenses Plastic Bags
Kemilove Bag Holder Dispenser, $.85, Amazon
This bag dispenser is made out of durable mesh, designed to hold all the plastic bags that somehow keep accumulating in your home — and then, you'll actually use them.
Simply hang this dispenser on a hook, stuff all your excess bags in it, and you will be instantly more organized. You can also use it for recycling, too.
3. This Drawer Inserts With Dividers That Keep Things Organized
Focussexy Adjustable Drawer Organizer, $.49, Amazon
Never again will you have to fish around your junk drawer for nail clippers, scotch tape, or spare keys, thanks to this drawer organizer.
Really though, something this obvious can make a significant difference in any drawer, whether you use it to sort makeup, chargers, utensils, or whatever else you need to organize. This one comes with dividers so you can customize it for your needs.
4. A Handy Pouch That Fits Around Any Faucet
Genuiskids Silicone Sink Organizer, $.19, Amazon
This silicone organizer conveniently wraps around your faucet, making it the perfect place to store dish sponges and rags.
Since it has drainage holes, excess water will pour out, allowing your cleaning products to dry out thoroughly, and you can also use it as a mini shower caddy or in your bathroom.
5. This Cute Laundry Basket That's Also Collapsible
Didihou Collapsible Laundry Basket, $.89, Amazon
This laundry basket is a true steal, available in more than one cute design. It's sizable, collapsible, and even waterproof. You can stash it in the corner of any small bedroom, and easily put it away when not in use. You could also use it for storage, perfect for more clothes or soft items like linens and towels.
6. A Bottle Cap Opener That Attaches To The Wall
Genuiskids Wall Mounted Bottle Cap Opener, $.19, Amazon
This bottle cap opener mounts directly to the wall — and it's antique look makes this a great addition to a kitchen or bar room.
It's easy to install with the two included screws, and makes searching for a bottle opener a thing of the past.
7. This Adorable Storage Box For False Eyelashes
Beautyvan False Eyelash Storage Box, $.50, Amazon
If you have multiple sets of falsies, this false eyelash storage box is a must have.
One container holds three sets of lashes, and these boxes also come with a convenient mirror, so it's great for travel or as a vintage-looking piece on your vanity. Falsies are delicate and pricey — so this is an easy way to keep them hygienic and organized.
8. This Corn Desilker That Makes Fresh Corn Ready To Eat
Amco Corn Desilker, $.40, Amazon
This corn desilker does just that — it removes the annoying silk from any ear of corn with flexible bristles that won't damage the kernels.
You'll be left with a yummy ear of corn that doesn't have any of that stringy silk left. When corn is in season, you'll be stoked to have this in your kitchen.
9. This Egg Shaper That'll Make Your Breakfast Sandwiches Perfect
Suppion Stainless Steel Fried Egg Shaper, $.49, Amazon
This fried egg shaper is for anyone who loves breakfast sandwiches and wants to recreate those perfectly round egg shapes at home. Just crack the egg in here, and it'll fit perfectly on your English Muffin.
It's easy to use, made of stainless steel, and you could also use it to make little pancakes, too.
10. This Tray That Makes Amazingly Round Ice Cubes
Kemilove Ice Cube Ball Tray, $.85, Amazon
These ice cube trays make spherical balls of ice, which look extra fancy in cocktails or iced tea. You can also use these trays to make balls of ice cream, too.
Everyone needs a few good ice trays, and there's no need to settle for boring ones when you can get these for so cheap.
11. A Cute Container That's Perfect For Pens Or Makeup Brushes
Yonger Cute Pen Container, $.69, Amazon
This lacy container is adorable and perfect for pretty much anything you want to display on your desk or vanity, like makeup brushes or pens.
It's also available in six colors, so you'll definitely find one that matches your style.
12. The Drain Protector That Works In The Sink And The Tub
Hosaire Tub Drain Protector, $.37, Amazon
This affordable drain protector could save you from costly plumbing bills down the line, because they protect your drains from excess food, shedding hair, and more.
It'll fit perfectly into most sink and tub drains, and they never get clogged again. It's also rustproof, and the silicone rim keeps it from moving around.
13. These Silicone Stoppers That Preserve Leftover Wine
iEFiEL Silicone Wine Stoppers, $.99 (4 Pack), Amazon
Whether you're spending good money on wine or buying the cheapest one you can get your hands on, it's still important to protect whatever is left in the bottle once you've opened it.
These silicone wine stoppers vacuum seal any open bottle, preserving the flavor and keeping it fresher for much longer.
14. These Baking Sheets That You Can Use Over And Over Again
Genuiskids Non-Stick Silicone Baking Sheets, $.99, Amazon
This baking sheet is made out of food-grade, non-stick silicone, so it's a great, reusable alternative to parchment paper — and it'll keep your baking sheets clean and make anything you cook in the oven easy to remove.
It's infinitely reusable, and it's safe to put in the dishwasher or microwave. You'll never have to waste money on cooking parchment again.
Elite Daily may receive a portion of sales from products purchased from this article, which was created independently from Elite Daily's editorial and sales departments.