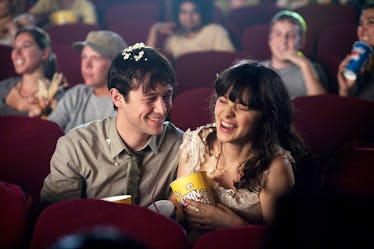 Here's What Your Fave Rom-Com Reveals About Your Attitude Toward Love
Fox Searchlight Pictures
I love a good romantic comedy. Seriously, there's nothing better to cheer me up when I've had a rough day. My perfect self-care routine involves a bowl of ice cream, a cup of tea (gotta have both), and a dramatic, relatable love story. Your favorite rom com says a lot about you, and it might even reveal the way you approach your love life IRL. Are you a hopeless romantic, a skeptic, or somewhere in between?
As for me, I have a long-lasting obsession with the movie Hitch. It's just as funny now as it was in 2005, and I think it speaks to me because I relate to Will Smith's character (a big-shot matchmaker who's actually somewhat terrible at dating). Sometimes, even though I talk a big game with other people, I'm nervous to open my heart up to someone new. I love giving advice, but I'm not always the best at following through with it myself. Hence, my constant belly laughter during this entire film.
But everyone's struggles are unique — and the movie you love most might reveal some unexpected truths about your dating strategy. Here's a list of the most popular films and how they hint at your approach to the age-old question: How do I find true love?