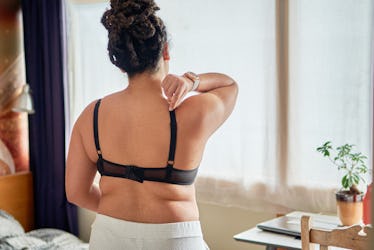 Here's What To Wear Before Sex For The Smoothest Hookup Ever
You'll feel so hot, your clothes will basically melt right off.
Roy JAMES Shakespeare/Photodisc/Getty Images
There's an art to dressing for sex, whether it's the first time you sleep with a new partner or your wedding night. Regardless of when you take the next step in your new relationship, it's important to dress accordingly if you have an inkling that tonight's the night you go all the way. Why does it matter? Frankly, sleeping with a new person can occasionally be awkward, and it will only become more awkward if you get stuck in your dress, have to discreetly remove your Spanx, get twisted up in your shirt… you get the picture. In the heat of the moment, dealing with distracting clothing should be the last thing on your mind.
With that said, here are some of the best and worst things to wear on you and your partner's big night, with suggestions from experts Dr. Carol Queen, author and Good Vibrations staff sexologist, and sex blogger Tatyannah King. Ultimately, though, these are just suggestions: you can consider them, certainly, but if you feel most confident doing something else, you should follow your gut instincts and dress to feel your best, your most confident, your most beautiful. It's how you feel that matters most.
Hookups Are Hotter When You Feel Comfortable In Your Outfit
Pick something you're comfortable in, something that makes you feel confident and desirable. "When picking out lingerie, comfort is key because the more comfortable you are, the more likely that comfort will radiate into confidence and sex appeal," King says. "If you aren't comfortable, it will show tremendously."
Queen agrees, saying you should indeed wear "whatever makes you feel confident and sexy." This could have a multitude of meanings, of course. "That could involve expressing your own feelings about your gender identity or how fem/masc you feel; it could mean subtly flagging a kink if that's your thing; it could just mean 'dress to impress,' whatever that means to you (and the contents of your closet)."Maybe it's a sundress and flats; a sweater, jeans, and heels; or a skirt, cute top, and wedges. Or perhaps it's something different entirely! Your partner likes you the way you are, so just be you.
"I do not recommend you wear something that doesn't feel good or right to you because you think someone else will like it….'You do you' is a better attitude to walk into a sex date with than 'What do they think of me?'" Queen says. "You want to send a message through your garments and style about yourself (feeling sexy! ready to play! etc.) — but you are sending that message first to yourself."
Go For Simple But Sexy Underwear
When planning what to wear to a hookup, you might as well start from the bottom. I speak from experience when I say you don't want to wear complicated underwear the first time you go all the way. Regular bras can be enough trouble, and everyone will only get more flustered if you've got crisscrossed bra straps or tricky clasps going on.
So what should you wear underneath your outfit before sex? A simple bra and panty set will do you just fine. Don't stress about whether or not they match — honestly, your partner will probably be focused on other things.
"I suggest a lace lingerie set, latex bodysuit with a zipper, or fishnet bra and skirt set," King says. "Not only will those materials show off your shape and curves, but they are relatively straightforward to put on and feel comfortable on the skin if you're wearing the correct size." She recommends skipping pieces like garter belts, which can get convoluted.
Admittedly, the exception to these guidelines is if you're really trying to wow your partner and opt for a garter or other sexy lingerie. Do you, but practice getting out of that contraption — having to solve a Mensa puzzle before you get busy might put a damper on things. Make it easy for yourself and your partner so you can both feel confident and smooth.
Shapewear Only Makes Sex More Complicated
When you're thinking about what to wear for sex, it's probably best to leave your Spanx and epic push-up bra in the closet. Why? For one, you'll be more comfortable if you're not squeezed into a sausage casing all night. Plus, it's hard to feel sexy when you're constantly worrying about your Spanx showing or your bra's padding stealing the show from your actual décolletage.
Instead, wear something that highlights your assets so you can own your body! Indeed, Queen says, "maybe don't get something that is so underwired or corsety or whatever that you can't move freely — unless you plan to leave that underwear on the floor as soon as possible."
Don't Wear Something Super Tight
I'm all about skin-tight clothes, but there's definitely such a thing as too tight, only because of the difficulty in getting out of them. It's pretty awkward when your partner waits while you contort yourself into unnatural positions to get out of your skinny jeans. In the same vein, you might want to steer clear of tights as well. "Dressing in uncomfortable lingerie that doesn't reflect your own personality or style sets you up to focus on some level of discomfort, and that's not the best entree into fun sex," Queen says.
Avoid Clothing You Know Will Give You Trouble
If you're anything like me, you probably have some clothes with sticky zippers or loose buttons or ones that are held together with safety pins.If your garment has the potential to malfunction, it should probably take a raincheck on date night. You don't want to get stuck unzipping or have your partner get stabbed by a stray pin during foreplay."
Wear Something That Comes Off Easily Before Sex
As the previous points suggest, it's best to wear clothing that comes off easily if you're planning to shed it all with your lover. "I'd skip any kind of lingerie that'll be difficult to take off because it could be a bit of a mood killer when you're about to have sex and then suddenly have to pause for five to 10 minutes from attempting to figure out how to take the lingerie off," King says. Skip the complicated outfits and getups with several layers — opt for clothing that's relatively easy to get on and off.
Opt For Smudge-Proof Makeup
When you've got the perfect sexy, simple outfit laid out, the last thing to do is apply your makeup. Go for a look you've perfected, but opt on the more conservative side.
Leave the false lashes on your vanity, and don't go too heavy on the eye makeup (unless it's really smudge-proof!). Sex can get pretty messy, and you don't want to wake up in the morning with your makeup everywhere. If you can, choose waterproof products or ones you know will stay put no matter where the night takes you.
What are you waiting for? Get out there and get busy! Have fun, and be safe!
Experts:
Dr. Carol Queen, author and Good Vibrations staff sexologist
Tatyannah King, sex blogger and international speaker