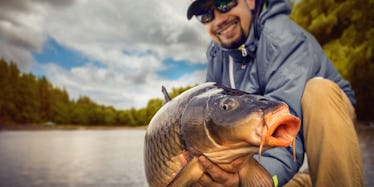 This Is The Type Of Guy He Is, Based On His Tinder Profile Pics
Rocksweeper/Shutterstock
I have one relationship deal breaker: I absolutely will never date anyone who has been to Burning Man. I do not care if you are the kindest, most compassionate person in the world, who routinely reads handwritten poetry to orphans and helps old ladies cross the street. You're simply out of the running in the very high-demand race to my heart!
Nevertheless, it appears that a large population of men on dating apps have attended the festival, based on their profile photos, at least. Maybe they all go together and have a photoshoot? I do not know.
But some other themes I have noticed in guys' Tinder photos? Guys on rock climbing walls. Guys holding puppies. Guys surrounded by women at the club. And of course, the man in a backpack staring longingly into a waterfall. Is he dating the waterfall? Potentially.
I know guys say the same thing about women — why are we all doing yoga and posing with our heads cocked and our hands on our hip, blah blah blah? We're all guilty. But here are the types of guys you'll find on dating apps, and what their typical Tinder pics say about them.
1. Polyamorous Guy Who Vapes
If a guy is vaping in his Tinder profile picture or says that he is 4/20 friendly, then I have tracked the analytics (I math good), and he is definitely also polyamorous.
The good thing about dating a guy who vapes, though, is that on special occasions, such as Valentine's Day, he can blow you smoke rings in the shape of hearts or cupid's arrows. Vape guy is romantic, 4/20 friendly, and his favorite movie is Fast and the Furious.
2. Guy Holding A Gun
If you see this guy on Tinder, his bio probably reads a little something like this:
Hi. My name is Chad. My friends call me The Chad because out of all people named Chad (we are all in a private Facebook group), I was voted the best of them. I am a member of every Fraternity because I am that good at beers and also babes. Additionally, I definitely voted for Trump. Finally, although I own a gun, I have no actual training on how to use it. Swipe right on me, though, because this gun makes me seem masculine and powerful. Also, I will want to split the meal at dinner, and I will definitely send you a dick pick.
3. Shirtless Bathroom Selfie Guy Who Shows Off Those Pelvic Line Things
What are those pelvic line things? Do they have a name? I need to be honest, I like them. Does everyone have them? I feel like I have never seen them in real life, so that must mean not everyone has them. Do men contour their pelvic line things on?
Anyway, the thing about "shirtless bathroom selfie pelvic line thing" guy is that he forgot to clean up his bathroom before taking his shirtless pelvic line thing picture. Hey, bro, your toilet paper roll is empty. Time to replenish! Additionally, his shower door is open, and you can see that he uses Selsun Blue, which is the shampoo people use when they have dandruff.
Swipe left on pelvic line guy and just go watch Magic Mike instead, you horny person.
4. Guy Holding A Fish
The guy holding a fish wants you to know one thing: Dude knows how to nature. He is one with the sea. He is not afraid of worms or gutting things, and he can provide you with meals should there be some sort of zombie apocalypse, and all the grocery stores close, and there is no more Postmates.
How does fish guy smell though? I do not know.
5. Emo Guy With Tattoos
Emo guy with tattoos is a nihilist. He read Nietzsche once, loves Fall Out Boy, and will talk to you about it at length over whiskey on the rocks because he loves whiskey.
He has one picture of himself on a motorcycle, but he will never tell you whether or not that is actually his motorcycle. He also loves Bukowski. Has he told you that yet? Bukowski is the greatest. Have you read Bukowski's Women? It's prolific.
6. Guy In Front Of A Private Jet
This Tinder photo screams, "I definitely do not have a private jet." Picture of a private jet guy got invited on a private jet for the day and held everyone up by asking to take a million pictures in front of it. He's the same guy who goes to a car dealership, takes a photo in front of a Ferrari for his Tinder profile, and then splits, because he thinks women will be attracted to a photo of a guy in front of a Ferrari.
Wealth whispers. It doesn't scream, "Look at me. I own a private jet, and I am on a free dating app used primarily for hookups." A real private jet guy would be on Millionaire Matchmaker. Hellooo!
If you recognize any of these guys from Tinder, run. Just match with a guy who is holding a puppy or something, OK?
Check out the "Best of Elite Daily" stream in the Bustle App for more stories just like this!