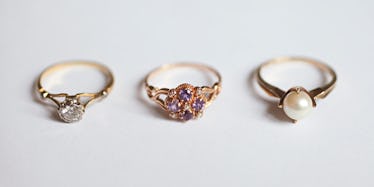 This Is What It's Like To Try On Engagement Rings When You're Single AF
Natalie Jeffcott
It started off like any other day.
Except, it was nothing like any other day because I was living in New York City for only a couple of weeks, it was surprisingly cold in the middle of May and I was going to spend my lunch break trying on engagement rings.
Did I mention I'm very much single?
When James Allen reached out to me about checking out their engagement ring showroom, I couldn't help but let out an audible laugh. I was (and am) the quintessential single girl. Not only that, but I've also written about being a single girl for the last two years.
But however ironically funny I found the opportunity, I couldn't help but jump on it. I immediately expressed my interest and set up an appointment to go to the 5th Avenue showroom. I then quickly stalked the website and knew I was in for a magical experience.
When the day finally came, I found myself feeling nervous. Naturally, I was excited to go play with diamonds, but I also started questioning whether someone significant would one day pick one out for me. Then, fate was a real bitch when she decided to make it rain when I got off the subway. (And I was still too new to NYC to remember to carry an umbrella at all times.)
So, there I was, standing in the lobby of a 5th Avenue high-rise soaking wet and single, and there was no one down on one knee. Instead, I had written down the wrong number, so I literally thought I got stood up at my fake engagement ring appointment.
I was one step away from grabbing a box of chocolates and going back to the office when the right number managed to get ahold of me and point me in the right direction. From there, I was escorted into a divine little showroom with diamonds sparkling along all of the walls, aka heaven.
As I stared at the tray of rings presented to me, I thought to myself, "Screw a boyfriend. That ring will do just fine." I tried on a few as we discussed this year's trends, which I was intrigued to learn was the rise of yellow gold and rose gold settings as alternatives to the "classic" white gold and platinum.
Aside from the trends, I knew I met my match when I tried on a yellow diamond worth over $500,000. It shined so magnificently that it distracted me from learning more about the store and how over 100 people on average are buying engagement rings there on a given day.
That's a lot of people who are not single like myself, but here I am, wearing this shiny baby.
I was also able to hold a stunning diamond worth $1 million (think of how many years of NYC rent that would pay for) and tour the tech room. It is there that they take pictures of every diamond you see available on the site — reaching into the tens of thousands — all photographed in 360-degree, non-conflict perfection in real-time.
I couldn't help but ask what age the average male buyer was (29) to gauge how much time I had to get me one of those. I was enamored while I stared at a pink diamond sparkle in 360 on the screen. I also couldn't help but ask if anyone returned one of these beauties. It turns out, the only reason they get returns is when the receiver says "no." Awkward.
Of course, the diamond daydream had to come to an end, since I had a job (and a real life) to get back to. As I was leaving the enchanting experience, I was simultaneously planning my next swiping session on Bumble. I also couldn't wait to get home after work that evening to play around with the site to design my own perfect ring to fantasize about for years to come.
Before I could get to that fantasy, though, I had to figure out how to get back to work without that damn umbrella. I left that strangely chilly (and now wet) day that was unlike any other feeling oddly excited for the future, for my future.
It's true I was (and am) exceptionally single, and I ironically spent an afternoon trying on engagement rings. Yet, it's also true I'm only a 20-something girl who just moved to New York City with my entire future ahead of me.
So, as I walked down 5th Avenue in the pouring rain, while I searched for an umbrella, I couldn't help but smile. I smiled because I knew that somewhere on these streets, there was a man walking who would one day get down on one knee with not just a diamond, but with a promise of forever.
And I'll happily keep walking in the rain — while not settling for just any shelter — until he finds me.